I'm in the Spanish capital again, and a visit to the Angelita Madrid seems very appropriate. Having not booked a table on a weekend's night will most often mean that the only option is a place in the bar. Which is nice. This time I was sitting next to Federico, a young Argentinian who runs the splendid Acid Café coffeeshop in the museums area (Prado).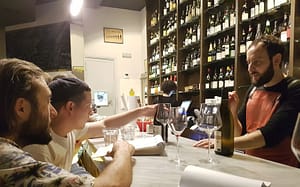 I will come back to Angelita and their extensive list of artisan and natural wines by both glass and bottle. This week's wine is an orange wine from Zamora, that I hadn't tasted before. The winery is found in Villamor de los Escuderos, south of Zamora town, not far from Salamanca.
The wine is made from godello 50% from centenary vineyards, and albillo real from new plantings. The soils are stones and sand over clay. Height above sea level is 800-900 m.
The producer says that this is a modern variant of the ancestral "embabujado" technique, that is, wine made with all its components. The grapes were partially destemmed before fermentation that finished it in oak barrels. It has not been clarified and it has been bottled after a light filtering to remove turbid. Total So2 is less than 6 mg/l.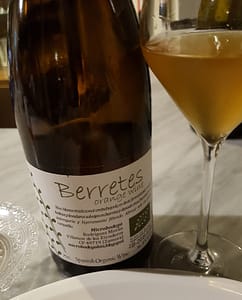 Berretes 2014 (Microbodega Rodríguez Morán)
Light orange. Aroma of white flowers, orange peel, a touch of honey, chalk. Lightly structured with good natural acidity.
Price: Medium
Best served at around 16ºC