Fabio Bartolomei was born in Scotland to Italian immigrant parents. There he studied accounting and finance. In 2001 he decided to move to Spain to make wine. For many years he also worked as a translator. It was not until 2019 that he became a full time winemaker.
Fabio knew from the start that he didn't want to use pesticides or additives. But he didn't know that natural wine was an expression for that kind of wines. Since 2014 he has used the old cooperative building in El Tiemblo as his winery.
Here you can read a short piece about yesterday's lunch in that bodega.
Alba is an orange wine made with albillo real grapes. The grape was fermented with native yeasts with the skins, then pressed and finished in stainless steel. It was transferred to clay amphoras and matured there for five months. Unclarified, unfiltered and without added sulphites.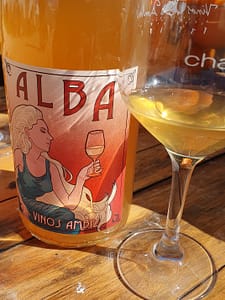 Alba 2021 (Vinos Ambiz)
Golden colour, hazy. Aromatic, with yellow apple, peach and flowers in front, then a layer of nuts with a touch of honey. Medium-bodied, luscious, drinkable and also quite long.
Price: Medium
Leave a Comment