If there is one person that comes to mind when talking about natural wines in Madrid, it's Carlos Campillo. I don't know about everything he has done, but since I met him he has run Le Petit Bistrot in the old town, Solo de Uva, by the Berlin park north of the city centre, and now this wine bar at Plaza de Cascorro in the centric La Latina district. He has played a central role as regards numerous natural wine fairs in the city, and many of the names familiar for me now I have first been served by Carlos.
While we don't forget the food, and the small dishes so well elaborated, it's the wine that we concentrate on here.
Natural wines in Madrid has a name: Carlos Campillo
This particular time I had arrived from Rioja, and I brought a wine from Ojuel (the producer behind the magnificent sweet wine Supurao) that I wanted him to taste. So we opened it. The room was packed, so I was standing by the bar. Next to me an importer (of Champagne and other wines to Spain) heard what we were talking about, and joined both the conversation and the tasting. This is just that kind of bar; nothing complicated, the one next to you is your friend, join the fun!
None of us has yet mastered the art of taking selfies to perfection, but we managed to get both faces and the bottle inside the frame
Oxuel Salvaje 1 2016 (Ojuel)
This is a wine from the garnacha variety, grown in Sojuela village between the Najerilla and the Irégua valleys of La Rioja. Biodynamically treated, and fermented in used French oak. Purple colour; redcurrant and strawberry nose, a bit earthy with aromatic spices; sapid, with a refreshing acidity, a vibrant and long finish.
Here are a few of the other wines I tasted this time, and the next.
Bonny Giornata 2017 (Vinos Ambiz)
Bonny means fine, nice or beautiful in Scottish, and giornata is day in Italian. This wine is made by Italo-Scot Fabio Bartolomei and Antonio Sicurezza, his Italian friend. This carbonic maceration wine is made near Albeche river in Sierra de Gredos at 750 meters of altitude. It's a fresh and vibrant, red fruits dominated, low alcohol garnacha (12%) with medium body.
Torcuato Huertas makes wine in Marchal, municipality of Guadix, in the highlands east of Granada. His wine are marked both by high altitude (up to 1.200 meters) and southern geography. From just 3 hectares he grows more than 20 varieties.
Carlos poured just a sip of both, the multi-varieal Purulio Blanco 2016 was a tasty, robust wine with some skin-contact peel aromas from Torcuato's lower plot (at "just" 900 meters), while the Jaral (2016 too, I think – my notes are not easy to read here) was made with red grapes from higher up. This was more fresh and elegant, with notes of blueberry, blackberry and just a bit leathery. Purulio Tinto 2016 is a mix between the two, and shows it, both in the fresh fruit and the rich mouthfeel.
Vinos Patio of Castilla-La Mancha is a long time favourite at Carlos' restaurants. The Aire en el Patio 2016 is a skin-contact airén, very much alive, tasty, with a pure fruit, smooth texture and a round mouthfeel.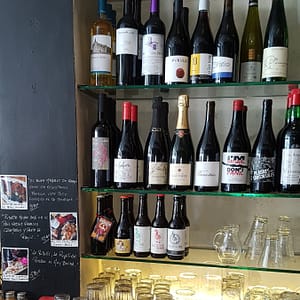 As I mentioned, this was not my latest visit to Carlos' bar at Cascorro. I was there a short time ago, on a Sunday. If you have been a tourist to Madrid you know about the Rastro flee market. While I must admit I had my doubts if the people would be able to find his Solo de Uva, here we are in the midst of the Rastro. -Very good for the business, says Carlos. And let's really hope that this will thrive and keep its position as the bastion of natural wine in Madrid. Today there are signs that something is on the move, with new bars and restaurants, and plans for more. But in difficult times it's Carlos who has been holding the fort, almost alone.
From this last busy Sunday visit I will just mention three wines that Carlos poured in a hurry, all from the Castilla y León region. La Senda of Bierzo is a winery I must check out and come back to, because both wines were fabulous.
The Vindemiatrix 2017 was a dark violet, cherry and plums-scented wine with a pure taste, fine-grained tannins, and a really nice natural acidity. The cherry red "1984" 2017 showed super fruit, with cherries, plums, cloves and a lovely acidity. Both are wines to drink, but they are far away from simple.
Coruña del Conde is such a rare thing as a natural wine producer in Ribera del Duero. They are found near Aranda, so I'll have to check it out next time in the area. The I'm Natural, Don't Panic 2016 un-oaked tempranillo wine (with a small amount of albillo mayor) was dark violet of colour, with a good fruit, mature red berries and blackberry; fleshy and smooth in the mouth and with an inspiring acidity. Sincere, interesting.
Cascorro Bistrot seen from within the Rastro