At the Salò de Vinos Naturales (Vins Nus) of Barcelona one of the revelations were Dasca Vives. Not only for their interesting rancio wine, but for the quality in general, and for their clever use of the "forgotten" variety of vinyater.
The Dasca Vives winery is found in the l'Alt Camp area, near the town Valls (Tarragona province). They have about 15 hectares, not only vineyards. Not more than 20 km from the coast the soil has a high lime content. It's worked in a very natural way. The wines have little or no clarification and filtration, and only a small amount of sulphite before bottling, if necessary.
According to Josep Dasca and Alba Vives this variety fell out of fashion when the cava rules were defined, because it was not selected. But they think it deserve a place in the panorama of Catalan grapes. And after having tasted a sample of the 2018 and the bottled 2017 I would not hesitate to applaud them.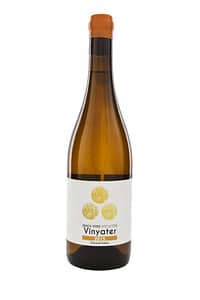 The family had always kept two vineyards of vinyater, of 50 and 35 years old. When they started to work it they first blended it with maccabeu to make the Llunàtic wine. When they saw that the vinyater kept the acidity well, they started to do some experiments to make a monovarietal vinyater wine. According to the producer, who cites a dictionary, the vinyater has a strong leaf and sweet juice, and is good for keeping.
Vinyater Finca el Freixa 2017 (Dasca Vives)
Light yellow with an orange rim; very fruity, from yellow apples to plums, white flowers, and a touch of citrus peel; full, round, with a touch of lees ageing, it also plays with oxidation is perfectly balanced.
Price: Medium