10th and 11th February there were two natural wine fairs in Barcelona. Both days the Saló de Vins Naturales (aka Vins Nus, meaning Naked Wines) was organized by the PVN (Productores de Vinos Naturales in Spain), while Monday 11th there was the Vella Terra, organized by Alejandra Delfino and Stefano Fraternali. Both fairs had guided tastings on the side, and there were parties in addition to the main fairs, and Barcelona was simply the place to be!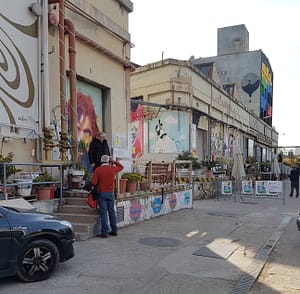 The 6th edition of the Vins Nus was held in the Nau Bostik building in the La Sagrera quarter, a place for cultural meetings. What place could better house the Vins Nus, that holds a position as the leading fair nationally for Spanish natural wines.
Most producers were Spanish, but there were also some from abroad, especially from France and Italy.
Here I met old friends and familiar producers. And there were some revelations too, of some I had only known the name or maybe tasted one wine.
In this post I can only mention some highlights. And I will try to limit myself to only one wine from each producer.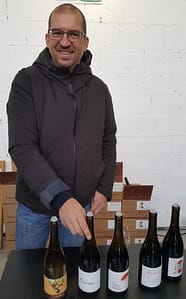 Lorenzo Valenzuela, Barranco Oscuro
Barranco Oscuro is a true classic on the Spanish natural wine scene, and has also been one of the founders and driving forces behind the PVN, who organizes this fair. From the high altitude vineyards in the Alpujarras of Granada they bring out one wine more inspiring than the other. One of my favourites has long since been the Garnata, a garnacha from the most elevated vineyards now in the 2014 vintage: Cherry red; very fresh, red fruits, clover, aromatic herbs; fleshy, tasty with a mineral finish.
Samuel Cano, Vinos Patio
This is a producer I have known for a long time. There is something intriguing about all the wines. It would be strange to call them cool, because they reflect the warmth of sunny La Mancha. This is Quijote's land, near some old-fashioned windmills in the Cuenca province. Most wines have Patio in the name, such as the lovely white airén Aire en el Patio and the dark, raisiny dessert wine Al Sol del Patio. I also tasted four of Samuel's wines at an arrangement at the bar Salvatge a couple of days before, so I limited myself to four wines at his table. A newcomer, or one I didn't know before was Mic Mac, a delicious, flowery, super fruity blend of airén and moscatel.
This time I chose the white, or more accurately, rosé Atardecer en el Patio 2017 (from the red tinto velasco grape). It's quite floral, with apple and peach. In the mouth it's round and fruity, I reckon it must have some residual sugar, and would be perfect for an afternoon (atardecer) in the patio.
Fabio Bartolomei of Vinos Ambiz
I have met Italo-Scot Fabio, former translator, many times at fairs and visits to Madrid and Gredos. He makes many cuvées with variations in time of skin-contact, ageing (varying time and type of container) and so on. All the wines, how different they may be, carry his personal stamp. The focus has shifted from the the vineyards just outside the capital to the high sites of El Tiemblo (Ávila), Gredos, and we might be seeing the beginning of something great, and his albillo real wines from granite soil can be said to bear the torch here. Doré (a synonym of chasselas) is a grape that he has brought to the fore during the recent years. Now the wine comes under the name Doris. The 2018 is yellow-gold, slightly cloudy; smells of mature apples and is also flowery; quite full on the palate, grapey and sapid.
Ramón Saavedra of Cauzón (left)
Ramón was enthusiastic and happy to show his 2018 vintage; the white Cauzón, a lovely strawberry-scented pinot rosé, the four grape Ira Dei and the Mozuelo, a red fruits luscious garnacha. I chose the Duende 2018, a wonderful syrah through several vintages: Dark cherry; fruity, earthy and slightly spicy; fleshy and tasty with young tannins.(Read more about his bodega and his wines in a post from 2017.)
Nacho González, La Perdida
La Perdida is a splendid producer in Valdeorras (Galicia). Nacho uses the traditional grapes godello, mencía and garnacha tintorera, but also palomino, and more unlikely varieties such as sumoll. I like his range on a general basis, such as the palomino skin-contact MalasUvas, the Proscrito, a reddish white from palomino and a small amount garnacha tintorera. The one that I chose for lunch that day was O Poulo 2018, a garnacha tintorera: Dark, fruity, with red berries, some green pepper, very clean and elegant with fruit all the way.
Joan Carles, La Gutina
I visited La Gutina of Empordà a couple of days before (a brief article from that visit to follow), so there was no need to taste the whole portfolio again. But a wine they didn't present then was Gluglu 2018, a carbonic maceration garnacha, strawberry scented with good volume in the mouth, but also a fresh acidity. Fun and authentic.
Angélica Amo López and Julien Ben Hamou, Coruña del Conde
Ribera del Duero can not be called a stronghold for natural wines. But Coruña del Conde, a bodega in the settlement of the same name outside Aranda, is among the torchbearers. I came across the following wine at the Cascorrot Bistrot in Madrid (read about it here). The latest edition is Don't panic I'm only natural 2018 #5: Dark, violet colour; fruity with red berries and blackberry; juicy, with smooth tannins.
Diego Losada, La Senda (picture taken the night before at bar Salvatge)
La Senda of Bierzo is another producer that I have been exposed to at Cascorro, Madrid. In my opinion everything from here is good, and I would be surprised if these wines will not be much more in demand in the future. La Senda white, red, all very clean, pure, the right amount of acidity, and with a sense of place. I chose La Senda "1984" 2017, the latter the vintage and the former a reference to Orwell's novel. It's cherry red, super fruity, with cherries, plums, medium body, and a lovely integrated natural acidity.
Torcuato Huertas, Purulio
Purulio is a neighbour of Cauzón in Guadix (Granada), except this is found even higher, at 1.200 meters, in the small settlement of Marchal. Most of the wines are interesting and good, marked both by the sunny south and the high elevation, though sometimes I'd wished the oak treatment had stopped just a little while before. The one I liked best this time was maybe the aromatic Purulio 2018 (sample, 5 months in oak), with its berry aromatics, flowery sensations and a quite cool acidity.
Vinotauro 2016, a pinot with the not-too-well hidden wordplay on the label
Josep Dasca (right), with Ludovic Darblade (co-owner of bar Salvatge in the middle)
Among this years' revelations Dasca Vives presented some impressive and different wines from l'Alt Camp, Tarragona province. They work well with the maccabeu variety, that is also the one behind their rounded, maturely fruity Llunàtic and the Vi Ranci. Another speciality is the vinyater variety. (Read here about their wine from this interesting grape.)
Now back to the rancio. This is an oxidized wine, most often from the grenache/garnatxa, and it takes some 8-10 years before it's "rancified". This particular wine was made from white grapes though. Josep and Alba explain that some ten years ago they put white wine from the grape variety macabeu in a barrel with a some kind of "dense vi ranci", that Josep's father has in a very old and broken barrel. They also added a little of alcohol (it's the only time that they had done so). Now they have started to sell it. Sometimes more white wine is added, but the barrel is never full, so the wine is always in contact with oxygene. The Vi Ranci had a mahogany colour, nutty aroma (almonds, hazelnut), notes of iodine, reminiscent of a relatively young amontillado sherry. In the mouth it was full and glyceric, with some tannin. My notes say nothing about how sweet it was; if my memory doesn't fail me I think it was kind of off-dry, anyway there was nothing at all disturbing.
Maribel and Juanjo of Alumbro
Alumbro of Zamora, Castilla y León was another discovery, with their wonderfully expressive wines, from the slightly turbid, fruity-grapey orange wine called Blanco 2016 (verdejo-godello-albillo), via the dark orange, perfumed moscatel Maeve 2018 to a couple of reds. Should I pick only one it could be the truly inspiring Berretes 2016 of albillo real/ godello 50/50: Orange, slightly cloudy; plums, apples, yellow tomatoes; some tannins. Linear, fruity.
Iker García of Hontza, Labraza (Rioja Alavesa) showed that he has something interesting going on. Another one to watch is La Zafra, of Monòver, Alicante.
I'm sorry for all the producers from abroad, that I had too little time for this Sunday. But we'll meet again, I hope.
Greeted by a Brazilian style percussion band by the Arc de Triomf, on my way to the fair
Leave a Comment