Esteban Celemín is found in Castronuño, in the Valladolid province, close to Toro (Zamora). He works a lot with albillo real, that he names the emblematic variety of Castronuño and which the family has planted an experimental vineyard. All vineyards are cultivated organically.
Other varieties are also used, some of them posted under "minor white varieties from the 'comarca' of Toro". At the bar named El Bar in the center of Valladolid I was offered one of these, an orange wine based on palomino, a variety not uncommon in the area. Here it's often called jerez. Well orange, the maceration had been very gentle during its 16 ,days of skin-contact, and probably lightly filtered, so the wine showed transparent. Nothing was added to the wine, of which a "grand" total of 260 bottles were filled.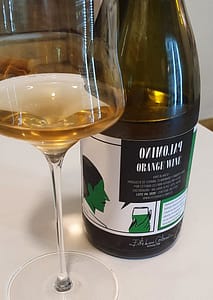 Palomino Orange Wine 2020 (Esteban Celemín Viticultor)
Light golden. Ginger, stonefruit, white flowers. Lightly textured, refreshing with a chalky mineral finish.
Price: Medium