Bendito Vinos y Vinilos (wine and vinyl) is an all natural wine bar in Madrid's Lavapiés barrio. This hilly neighborhood was earlier a cheap place that attracted many immigrants. (Here is a link to another restaurant, to be published.) Bendito is located inside the multicultural San Fernando market, that looks like a gathering place for the cultures they represent. Lavapiés is now the most international neighborhood in Madrid. Once the Jewish quarter, much later the immigrants actually established many bars here. After Spain's entry into the EU, there was a new wave of migration. Therefore Bendito is a good place to get to learn about the changes in Spanish culture and gastronomy.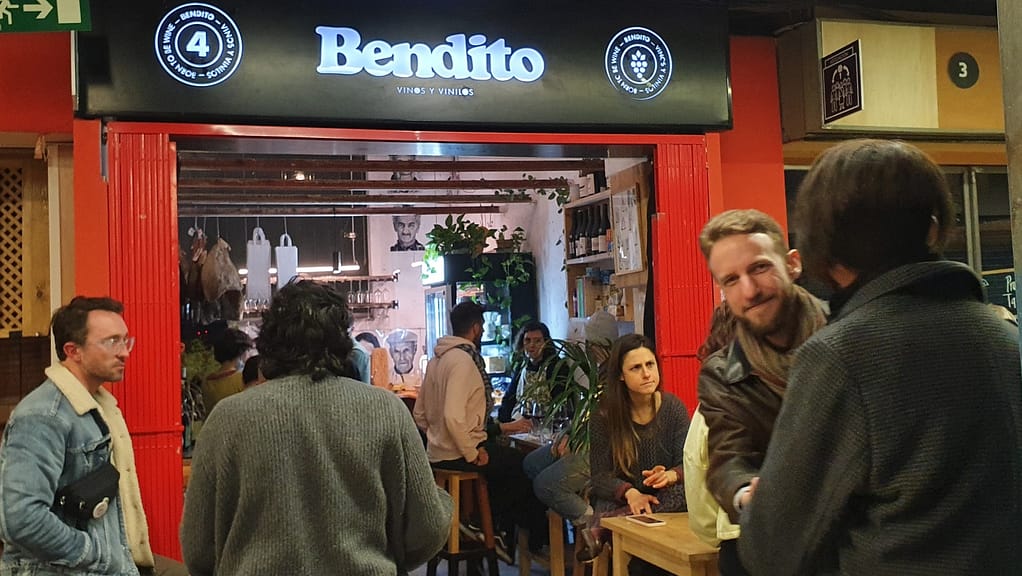 Owner José González selects cheeses and hams from many places. These are served with economic down-to-earth wines chosen by Ilan Saltzman, wine responsible, while the vinyl records spins in the background. By the way, Bar Bendito means the blessed bar, with all the allegories that it is possible to derive from that name.
I was there last Friday and the following Sunday and enjoyed a handful of wines both days, all served with small bites of cheese or charcuterie. This report is mainly based on the first visit.
One of the wines that night was Pampaneo Airén 2020 from Esencia Rural, a very fresh, lemony sparkler from Toledo. Read more about it here.
A delightful habit of the wine bars is when the waiter gives you a couple of sips, before you decide which wine you want in your glass. Here my waiter Ilan poured three samples. One of them Soif du Mal Blanc 2020, a muscat-dominated wine from Les Foulards Rouges, over the French border. I chose to wait until some other time, and go for a Castilian wine. Palote 2020 from Microbodega Rodríguez Morán in the province of Salamanca was made from palomino grapes. It rested one week with skins and stems. Thereafter it was aged in clay, finally bottled unfined, unfiltered and without sulphur. The colour was light orange/amber, slightly turbid; nice aroma of yellow fruit, elderberry, flowers and a touch of figs; good acidity, it plays with bitterness, but it's restrained. A blue cheese accompaned these first wines, and it went surprisingly well.
Behind Artesano Vintners is Mike Shepherd, who has a past in Australia in two important natural wine houses. Now in Catunya he grows only 2 hectares. Parellatxa 2020 is a clarete: Pale red; vibrant fruit, raspberry; very light delicate touch of tannin. The name is put together by the varieties parellada and garnatxa, but this you have already figured out.
Kikiriki 2018 is made from ull de llebre (tempranillo) and carinyena in a vineyard from 1979, by Manel Aviñó of Clos Lentiscus, Penedès. He works employing biodynamic techniques and ferment the grapes by variety before assembling the wines. Dark cherry colour; blueberry, also lighter fruit (raspberry) and a touch licorice; juicy with light tannin, good acidity, and over all truly fascinating.
Nacho González makes his wines within Valdeorras. But he is not a member of the DO, thus his La Perdida wines carry the designation Vinos de España. A Mallada 2020 is made from sumoll and garnacha tintorera. Fermented in amphora, aged in old oak, bottled without sulphites. It's dark, quite complex; on the nose it displays something sweet and sour (sweet cherries, acidic berry stones?) and very fresh fruit; there is a young dryness in the mouth, lovely acidity.
About the second visit I will report very briefly. It went more or less like the first visit. The two absolutely brilliant wines were Jordi Llorens' Ancestral de la Cristina and Oriol Artigas' El Rall, both from Catalunya, both from 2019. The former is from the Conca de Barberà area in the province of Tarragona and lived up to normal standard, light yellow with its clean appley and mature lemony easy-going character. The latter I didn't know. It's a sumoll (the grape) from DO Alella, north of Barcelona city, and showed a cherry-dominated red fruits side, with a pleasant juicyness in the mouth. The best of the rest, and a surprise too, was Sin Prisa 2018, a forest fruits-coffee-scented monastrell without added sulphites from Bodegas De Fábula, Murcia, near the regional capital.
Below: Only two of the many international cuisine restaurants in the San Fernando market.