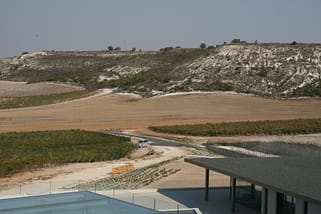 Squeezed in between our Rueda and Rioja days we had a short stay in Ribera del Duero. Indeed we had two very interesting visits on Spain's national holiday. Summed up very briefly the four producers can be said to represent big variations on the theme:
*Aalto: An intriguing story, a glimpse of glory and meaty red wines for ageing
*Valtravieso: Organic high-altitude wines; the great discovery of the trip
*Alfredo Maestro: Natural small-scale wine, as pure and fruity as they come
*Pingus: Legendary, but rooted in reality; biodynamics; ageworthy wines, but already possible to predict what will come
What their creators have in common: A deep passion, knowledge and respect for the land and for the tempranillo fruit, or tinto fino, as it is often referred to here, and a desire to express it in the wines. Always with an eco-friendly approach in mind.
Bodegas Aalto
After a drive up the narrow, rugged path we knew when we saw the stately, stylish new bodega that we had come to the right place. And Javier Zaccagnini was welcoming us.
Javier started the company in 1999 together with Mariano García. -At that time I was the president of the DO Ribera del Duero, explains Javier. -I had been thinking about opening my own wine business. Mariano had for long been pursuaded by his employer Vega Sicilia to end his own project Mauro in the outskirts of Ribera, as they wanted an exclusive winemaker. After 16 years of conflict enough was enough, and Mariano left. It's worth noting that friends of Spanish wine would be familiar with Mariano's Maurodos in Toro, and maybe also a brand new one, Garmón. Javier has also embarked on his own project, Sei Solo, with much less fuss. (We will taste and review these wines at another occasion.)
So no doubt, with Javier from the DO and Mariano of Vega Sicilia fame, Aalto got a flying start and was a success in the market from the first day. Aalto's style is fruity, powerful reds, good young with a hearty beef, but showing more elegance through careful ageing.
Mariano knows the area in great detail, and they own plots of tempranillo many places in the D.O., 110 hectars and 200 plots in all, none bigger than 1 hectar. The complexity and balance is a result of myriads of soil types, altitude, exposition and so on, according to Javier.
Most grapes are sourced from La Horra, a small village in the Burgos province, quite far from the bodega, but there are always varying percentages from places near La Horra like Roa and La Aguilera, then Moradillo to the south, Fresnillo or Baños more to the east – or Quintanilla, in the west where the bodega is.
Javier Zaccagnini, music lover, puts together notes from all over the D.O. to form his chords
Javier tells about how he brought his son Michael into the company. -Michael was studying oenology, and insisted on receiving the lowest possible pay according to Spanish law, Javier says. -Being near and learning from 'the master' was enough for him. I had to accept, for a year, but then I had to rise his salary because he was so good, and he worked hard and independently. The thing was that I couldn't treat him different because he was my son, in this case: I couldn't treat him worse than others!
Javier and his son Michael, now oenologist together with Mariano García
Two wines are produced, Aalto and Aalto PS (that stands for 'pagos seleccionados', selection of plots), that retails for around 30 and 60€ respectively. The grapes are exclusively tinto fino (or tempranillo), as cabernet and merlot have too long cycles for maturing here. And all vines are at least 60 years old. PS is basically from La Horra. The alcohol fermentation lasts 5-10 days. The temperatures are raised from 10 to 14˚C when they want the fermentation to start.
When asked "how organic" the farming is, Javier says that they don't want to damage the planet. Thus the farming is organic, not certified though, but it might be that something would be used to prevent mildew. Only natural yeasts are used.
We tasted the wines in the 15 vintage.
Aalto 2015: Dark with violet rim. Dark fruits, blackberry, herbs, toast, coffee. Rich, big in the mouth, strong tannins after medium plus roasted barrels. (14,8% alcohol)
Aalto PS 2015: Deep purple, still darker. Blackberry and blueberry, toast, while lickorice and anis adds to the freshness on the nose. Rich and heavy, this one too with 'demanding' texture, and  big in the mouth. It's somewhat more oaky, but it's made for a long life.
Valtravieso
High up in Piñel de Arriba in the Valladolid province some 920-950 meters above sea level we found Valtravieso, the journey's biggest surprise. Here I will report only briefly from the visit, as the long story has already been published here.
Ricardo Velasco works very naturally, the farming is dry and if all is well nothing is added.
High up in Piñel is a long ripening processes, which is good for the aromas and flavours and improves the acidity in the wines. The long sun exposure gives good colour to the grapes. The great differences between day and night, especially in summer, when temperature can drop 18º C, brings more polyphenols, and with it higher antioxidant content.
At Valtravieso they believe in launching the wines on the market when they are approaching their peak for consumption. This is how it used to be all over the country, but in today's market it's rather unusual.
Some wines from the tasting:
Crianza 2015: Cherry red. Very fruity, some coffee, spice, herbs, pine. Rich, but with a fresh acidity, long, and the high alcohol (14,5%) is no problem.
Tinta Fina 2015: Dark. Very fruity, with blackberry, pine, truffles, and a flinty mineral character. A lot of structure, rich, somewhat heavy at 15% alcohol, but still the fine acidity shines through. (Tinta fina is yet another variation on the name tempranillo.)
Gran Valtravieso 2014:
Dark cherry red. Very fruity, cool aroma, with red berries, a balsamic note, hints of vanilla and toffee. It's rich, yet luscious, with high acidity that contributes to the long aftertaste. I would call it elegant, but due to the alcohol content it's advisable to cool it down a bit.
I had met Alfredo several times, around in Spain, and once in London. (You can look at the pictures from Gredos 
here
, and
here
is a report from London's Real Wine fair.) He is always fun to be with, very unselfish, and always ready to help. When I first met him I contacted him to see if I could visit him in Gredos. But as a leader of the Garnachas de Gredo group he proposed to organize the trip, and finally we drove around all the area together and met around ten producers. He also deserves the credit for our "discovery" of
Valtravieso
, that came in as a substitute after an appointment in the Soria province was cancelled.
This was the first time I had the opportunity to visit his bodega. The humble winery with no doorsign is located by the main road in Peñafiel, close to our hotel (the Ribera del Duero), and looking up against the majestic castle that is now the "parador" (in the chain of stately run tourist hotels).
His bodega is located, I would say, in the heart of Ribera del Duero, at least in the middle of the major town of the western part, not far from Protos, Vega Sicilia, Villacreces – or Aalto – to name just a few. He refuses to use the DO Ribera del Duero though. This is for two reasons, because he wants to have freedom, and also because he makes wines from several places within the Castilla y León region. His native Peñafiel is in the Valladolid province, where he has some 25-27 hectares, but he also operates in Valtiendas (Segovia), Cigales (another D.O. in Valladolid) and Navarredondilla in the Gredos mountains of Ávila, where he has 5-7 hectares own vineyards. That is why he rather wants to bottle everything under the broader Castilla y León designation.
All of his wines are very pure, with a clear-cut fruit. We tasted a few through the tour in his cellar, first a skin-contact albillo mayor (the Ribera variety, as opposed to the more aromatic albillo real from Gredos) called Consuelo, a tasty wine with some mature apple and apricot. The 46 Cepas is a merlot from Peñafiel made with stems; dark, aromas of green pepper and herbs, quite warm. An all time favourite is Almate, now in the 2016 vintage, a tempranillo from both sides of the Ribera del Duero border, which means partly from Valtiendas, Segovia: Dark, grapey, juicy and with a cool freshness.
Alfredo has been given several vineyards from old people, that rather will see them in good hands than abandon them. A really interesting wine is a rosé from Cigales, aged partly in chestnut, made from 75% tempranillo (the rest is "de toda la vida", which means it could be practically anything, red or white). This is the old style from a former stronghold of delightful rosés, in contrast to the many "well-made but utterly boring" rosé wines nowadays, and he calls it Rosado Clásico de Valladolid. It has very little skin-contact, but the colour is light red-orange, delightful raspberry and citric aromas, and it's tasty as few rosés on the market. Very, very good!
We also tasted the Marciano 2016, a Gredos wine, high altitude (1.200 meters). This is a garnacha grown in granite, made with 100% stems. It's very fresh with a high acidity. His most typical Ribera wine is Castrillo de Duero, now in the 2016 vintage. It's mad from grapes grown in Castrillo at 960 meters. This is a red fruit-driven wine, a bit balsamic and with very fresh acidity. It has stayed some months in rather neutral French oak, and it's not at all oaky.
Parking the car outside another humble bodega building. Best to have the notebook ready…
The last visit before we leave Ribera del Duero is no less than the emblematic Dominio de Pingus. Already something of a legend even though it didn't start untill 1995. This is Danish oenologist Peter Sisseck's project. Today is another busy day for Peter, but he has the time to say hello and good-bye.
It was Julia Zhdanova, assistant to the winemaker, who welcomed us and guided us through the facilities and the history behind Pingus. There are many people working to ensure that everything is right. Among them are 6 people in analysis, who are helping other producers in the area too. They also work in collaboration with universities, such as the one in Cádiz for yeast environments and Valencia for bacteria. The winemaking at Pingus is very natural, and biodynamic principles are used. But in case something goes wrong, you can be sure that there is a back-up plan.
Many people has wondered why is the wine that expensive (selling at 800-900€ per bottle in Europe, 10 times more than Aalto PS). Speculation is of course an element in this highly regarded and limited quantity wine. Julia says that it was not the intention to push the price through the roof. But it was obviously of a high quality, and when the first vintage was shipped to the USA, the boat sank and the highly valued bottles went down with it. This raised the price significantly, and it has been kept high since then.
Peter Sisseck (from my previous visit in 2009, photo K. Karlsson)
It's mabye convenient to give a brief background here, since we have now already travelled back in time. Peter Sisseck came to Spain from Bordeaux in the late 1980's, and it was almost by coincidence that he became involved in wine. He was appointed to direct the new Hacienda Monasterio, now another big name in this area with a huge concentration of important wineries. While at Monasterio Peter discovered some plots of old tinto fino vines – wild, but of outstanding potential – and decided to make a wine of his own. This was the start of Pingus, his nick-name from his childhood. He was himself amazed about the quality of that first vintage, the 1995. So was American critic Robert Parker, who scored it higher than any Spanish wine so far. So when Peter went back to Bordeaux and presented it at the "en primeur" tastings it was already the talk of the town. But, as we have heard, the first shipment to America (from a total production of 12 barrels) went down, and the prices went accordingly up. And as we shall see, although the production is always less than 500 cases the income has given Peter the opportunity to embark on projects that will benefit other winegrowers in the region, and possibly also the DO as a whole.
Peter and Dominio de Pingus is now further exploring the map of Ribera del Duero, a work that has been generously offered to the Consejo Regulador (the regulating body in the wine industry), who has welcomed it. This will be important for a new classification of vineyards in Ribera del Duero.
I remember from an earlier occation that he spoke about how well he was received in Castilla, the openness of the people, ready to help and shared willingly of their knowledge. PSI, a project and a wine named after a letter in the greek alphatet that resembles a vine root, is a project that Peter has created to help local farmers to fulfill the potential of their vineyards. He loves the region that has given him so much, nature both rough and graceful and with lots of character.
Pingus was originally sourced from a plot in La Horra (over in the Burgos province) called "Barroso", with old vines planted in pebbles over clay-limestone with good drainage. Later other adjoining vinyards with similar characteristics, like the "Parrando", were added. Today 5.000 bottles are made annually from 4,5 hectars, and the yield is only 9 hl/ha. "2nd wine" Flor de Pingus (a tenth of the price, ten times the production) were initially sourced from the vineyards of Villacreces near today's Pingus winery, but now it comes from La Horra too.
The main wine ferments in 1800 liter barrels, while Flor ferments in tank. The vinification has been altered a bit through the times, towards less new oak and less extraction. Flor now spends 18-22 months in 30-40% new oak, while Pingus sees mostly 2nd year oak for 24 months. Fermentation starts when the must is heated. There is not much extraction these days, and almost no pumping-over: For the current vintage nothing. Psi is fermented in cement tanks and large old wooden casks, and in general little oak is used. For the time being it's made in rented fascilities.
There is in fact a forth wine called Amelia. This is from a very old plot in La Horra. The grapes from here used to go into Flor, and cuttings were used to replace old vines in the Pingus vineyards. Since 2003 however it has been separately bottled, and the whole tiny production is sold to the USA.
Everything is sold "en primeur". To be precise, there are allocations between the regular customers.
2016 was a good year, easy to work and without complications. The samples show a good freshness. The three wines were clearly in the same direction, so here follow only some brief notes. Psi (mainly tempranillo, but also around 10% garnacha) was dark, with a flowery nose with cherry, herbs and a touch of coffee. Young tannins, high acidity and will not need much time to integrate the oak. Flor de Pingus: In the same vein, more aromatic, the same roasted notes, a touch more structured. Pingus: Again obviously in the same family. Deep, dark, with a violet rim. Already complex, more balsamic, blackberry, blackcurrant and blueberry waiting to come out, some nutmeg and other spices, but also roasted elements, a tough structure and high acidity. It's worth repeating though, that these wines are not ready. They will smoothen with time and will keep very long.