I have recently written a fairly extensive article for the Norwegian paper magazine Vinforum about the village and vineyard issue in Rioja. As the headline goes it is about Rioja's lack of will to accept villages and vineyards to be mentioned on the labels, just like in other modern wine regions. Then it was announced in La Rioja after my deadline, and quite surprisingly, that a new regulation would be put into practise: Vineyards will be accepted on the labels. Villages will not, however. In-stead a category for sparkling wines will be included.
The blog format does not allow us to go into details. But here is a brief (almost) chronologic overview:
*Rioja has to this day been accepted, even by wine geeks, as a Land from the Past, where wine can be bought-in from the whole region, where exact geografical origin is un-known – and if there is a known birthplace, more often than not obscured by the influence of oak. The Consejo Regulador (CR, the board that regulates the business) is a conservatory/conservative body. In one way it's easy to understand, because they have been extremely successful in promoting the five letters RIOJA. But today there are many people who want to trace the agricultural products back to their roots, here literally speaking. The new wine law of 2003 did not take the consequences of this, and the vino de pago-category was established as some kind of compromise.
*But on 29th November 2015 well-known producer Artadi left DOC Rioja in protest, mostly against the labelling policy, and started to use the province designation Álava (one of three provinces in the Basque Country) in-stead. This shouldn't have come as any surprise, as he had announced it loudly and clearly, and over a long time.
*Around the same time several meetings were held. Telmo Rodríguez (of Remelluri and own projects in Rioja and elsewhere) gathered producers and other people in wine in Club Matador, Madrid. Juan Carlos López de Lacalle of Artadi was among the more than 150 who signed a manifest that opposed the current regulations and focused on terroir. The meeting was held on 4th November 2015, but got special significance after Artadi's departure. The manifest called for a pyramid structure: At the bottom it suggested wines from everywhere in a DO, then village wines, then wines from specific farms, then single plot wines on top. And important: These changes should come from inside of the organization (contrary to what Artadi eventually decided for themselves in the case of Rioja).
*Only a few days later the group Rioja'n'Roll was created by eight young, up-and-coming vintners, Roberto Oliván and Olivier Rivière among them.
*Juan Carlos López de Lacalle organized a conference in Laguardia, where his Artadi bodega is located, just after. Among the guests were several of the people that had taken part in the Club Matador meetings, among others Salustià Álvarez of DOQ Priorat, a Spanish region that is leading the way with their village wines and vineyard wines.
*Rodríguez organized the first "Encuentro de Viticulturas" in May 2016. The message was clear and loud: We want change, and we want it now!
*A couple of months before, on 24th March, the Basque newspaper Noticias de Álava had informed that a new DO Viñedos de Álava (Arabako Mahastiak) was formally approved in the province council and sent to the Basque government.
*National newspaper El Mundo announced 17th April that the Basque Basque government would approve the new DO before summer ("between May and June"), and it would be published in the state's official channels (Boletín del Estado).
*In July 2016 El Mundo reported that 42 producers among the 126 members of ABRA (the association of producers in Rioja Alavesa) said they were ready to join the new DO, and all of its members had voted for it. ABRA's leader Inés Baigorri claimed they had been working on this project for three years, and a document was already sent to the Basque government.
*In the aftermath of these incidents CR accused ABRA for being both illoyal and that this was politically motivated. Which was partly true as the dissidents are Basque, but the crucial point was that they were not heard within a Rioja dominated by big players. The Consejo Regulador had also announced in January this year that they were studying possibilities for meeting the critics, by granting the right to mention smaller units.
*ABRA then agreed to put their plans about a new Basque DO on hold for two years
One way to summarize is that there has been a fight between this:
Five letters (Rioja as a brand)
And this: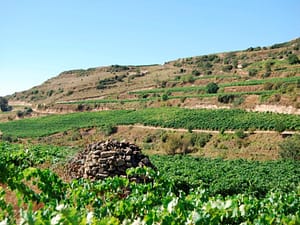 A focus on vineyards (here represented by Artadi's Valdegines)
What does this blog think about these changes then?
If you want to build a pyramid, would you start on the bottom or on the top? Right, you will create a system based on principles that you believe in, and building is normally sensibly done on top of a strong foundation. We can only imagine the severe discussions inside the walls of the Consejo. So the Viñedos Singulares obviously can be seen as a "compromise", and might have been  created to calm the voices of "los indignados" (to borrow an expression from modern Spanish politics). Having said this, it's much better than status quo.
About the regulations: It can be a vineyard wine even if only 85% of the grapes come from that vineyard. To me this sounds like "the old times". As for labelling, villages can now be named. That is, the village where the bodega is located, not the vineyards, if this is in another municipality. Strange.
About the idea of a DO Viñedos de Álava: I understand the desire to focus on Basque (viti-) culture. But there are various obstacles, such as the strange "serpent" that is the frontier that you cross several times when driving from Haro to Laguardia, and many producers have vineyards in both provinces. Next is the challenge of incorporating the txakolís of the Álava province (DO Arabako Txakolina) – or not. So considering all possibilities: I think, I think that Rioja should have more or less the same borders as it has by now. Just take a look at the landscape: Once you enter from one of the sides, you'll see that Rioja is a bowl-shaped area framed by the mountain "sierras" of Cantabria, la Demanda and Yerga. The Basque-Castilian co-existence has been evident since the times of the Yuso monastery, in other words: more than a thousand years ago.
I don't think a fragmentation in many small DO's would help much. Having said this, I think that a fragmentation of sub-zones could be good for the region. There has been many thought-experiments around this theme. Ignacio Gil, of Bodegas Mitarte and former mayor of Labastida (member of ABRA but opponent to the new DO, and now member of the CR), has suggested 20-25 zones, 5 in the Cantabria area alone (one consisting of both Labastida of Álava and San Vicente, Ábalos and a part of Samaniego of La Rioja). One could also look upon the 7 tributaries running into the Ebro from the west in Rioja Alta and Rioja Baja.
It follows from what I've said that there are many "good guys" in the Consejo Regulador. Among these are wine producers Juan Carlos Sancha and Eduardo Hernáiz, both running exemplary château style bodegas in Rioja Alta and both representing the smaller family estates. Even the cooperatives have the right to fight for their interests, of course. (It's only that in general I don't subscribe to their ideas.) The Grupo Rioja, that consists of some of the bigger companies, can be suspected to have conservatory interests, but I see there are sensible voices among these too. In any case, it seems obvious that there are conflicting opinions within the body.
As for the inclusion of the sparkling wines: This I support, without doubt. How many times have we discussed this crazy map of the DO Cava? This is a piece of land that doesn't exist in reality, but which somebody had to "dream up" to be able to put the DO (designation of origin) in-stead of the former DE (special designation).
But in the end I agree with rioja'n-roller Óscar Alegre, who says that a change must start with the vintners themselves, when they do what they believe in, bottle themselves instead of selling to the big houses, and if they need it without the five letter back label.