Château-Chalon is, despite the name, an appellation in Jura. The only grape variety used to make it is the savagnin, just like the other vins jaunes, wines matured under a veil of yeast. This producer owns 10 hectares and farms them biodynamically. This includes a half hectare in Château-Chalon AOC. Caves Jean Bourdy uses barrels up to 80 years old for fermentation and aging of the wines. They are known for their extensive back-catalogue of old wines, with château-chalon back to1865.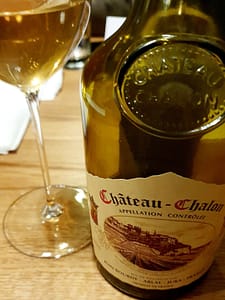 Château-Chalon 2012 (J. Bourdy)
Yellow with greenish hints. Complex aroma with walnuts, honey and mature cheese. Smooth, nice acidity, long and dry aftertaste.
Price: High