I was on my way to Portugal and Porto's Simplesmente… Vinho fair. But "in these troubled times", as festival general João Roseira wrote in my invitation, one of the flights were, yes exactly! – cancelled. Therefore I decided that I would go to my local shop and buy a wine from a producer I knew would participate, to get in the best possible Portuguese mood as soon as possible.
The choice fell on Poeirinho, from producer Niepoort, whom I know well and is a prime example of where Portugal is heading. Poeiriho is a modern, fresh, elegant, lightly extracted baga from Bairrada, a region otherwise known for hearty, hefty, tannic wines. The pictures are from my visit to Quinta de Baixo in 2017, that Niepoort had bought some time before. Here you can read more about this cellar and a review of an earlier vintage of the same wine.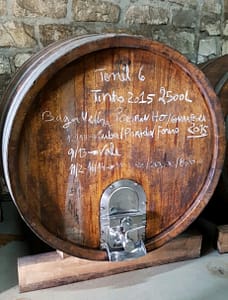 The soil here is calcareous clay. The grape is obviously baga, in this case 100 years old. The grapes were hand-picked. The fermentation was carried out in lagar and stainless steel.
Poeirinho 2018 (Niepoort)
Bright, light red. Aroma of red fruits (raspberry), red currant, balsamic hints (anise) and also a leathery note. A light, elegant structure and fresh acidity.
Price: Medium