Summer is coming, and we want a fresh rosé. Apostolos Thymiopoulos can offer this. Though it's not what you maybe would expect at this time of year: Here is an oak-matured rosé with some backbone.
Apostolos was the first to vinify the family vineyards, in 2005. He believes in sustainable viticulture and minimum intervention during the whole winemaking process. With this philosophy Apostolos produces ten different expressions of xinomavro, to express every aspect of its potential.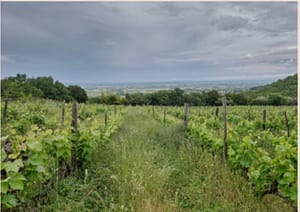 We are in the Naoussa appellation of Macedonia, northern Greece. The Thymiopoulos winery is located in Trilofos, a village at the foot of the Vermio mountain. The parcels for this wine are non-irrigated, young vines of xinomavro, around the village of Fytia at 450-650 metres. The soils are schist and granite.
The Naoussa region has a warm continental climate, tempered by the cooling winds coming either from Vermio mountain or from the sea.
Lower temperatures due to high altitude, and big differences in temperatures during ripening season give freshness to the wines.
The grapes were hand-picked, destemmed, macerated for 12 hours, and fermentated with wild yeasts in stainless-steel tanks for 5 to 6 months. Then followed a 4 months maturation in 500-litre, second-use oak barrels.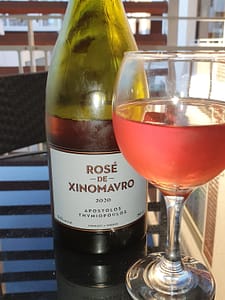 Rosé de Xinomavro 2020 (Thymiopoulos)
Light red. Aroma of strawberry, currant, rosehip and herbs (thyme). Juicy and rounded, with some backbone, and also a nice acidity.
Price: Medium/low