Last Thursday I had the pleasure to revisit Bellies, a 100% vegan restaurant in the eastern neighborhood of Stavanger, Norway. Here you are not served "vegan burgers" and such. The focus is on the tastes of the ingredients, and there is a high level of creativity in the presentation. Add to this a select wine list that mostly highlights natural wines and you have got the picture.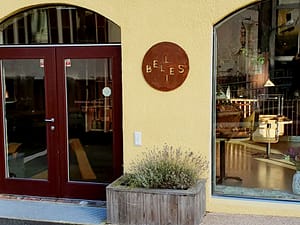 I had the "Full Bellies", a ten servings presentation (dishes of various sizes), accompanied by a package of five wines, plus an elegant champagne, the Les Vignes de Montgueux blanc de blancs extra brut (J. Lassaigne). Among the wines were a stylish, slightly buttered, tropical fruit-scented Saint-Véran, Les Pommards 2020 by Jessica Litaud, a fresh Loire white, Saumur 2021 (B. Stater-West) and an interesting relatively full-bodied oak-treated beaujolais, Morgon Dynamite 2020 (A. & Y. Bertrand). All these were wines that I will keep an eye on, and good enough to be featured.
This time I concentrate on a brilliant fruity, earthy, full-of-life red from the Loire valley. Nadège Lelandais can be found in Rochefort sur Loire, a few miles southwest of the city of Angers. There she cultivates 4.5 hectares of cabernet franc, cabernet sauvignon, and chenin blanc. She has been practicing organic and biodynamic viticulture since the start in 2005.
Our wine Vigneronne is made of cabernet franc, handpicked and fermented in fiberglass vats and aged several months in older barrels.
Vigneronne 2021 (Nadège Lelandais/ Les Vignes Herbel)
Dark purple. Fragrant with raw red fruits (cherry, red currant), blackberry, and with an earthy note. Juicy and fleshy in the mouth with fine tannic structure, herbaceous with fresh acidity. Simply delicious.
Price: Medium