Jura is a small, yet diverse wine region. Stéphane Tissot is one of its most dynamic and creative producers, and boasts a huge varieties of styles. Here he has made a sparkling wine with vin de paille in its dosage. And vin de paille? A traditional Jura thick and sweet dessert wine made of dried grapes.
Indigène ferments with indigenous yeasts, hence the name. Then the second fermentation is begun with vin de paille. This wine has the same grape composition as Tissot's crémant Normale: 55% chardonnay, 35% pinot noir, the rest poulsard and trousseau. These two wines are separated after the first fermentation, when Indigène is dosed with vin de paille, added daily in tiny amounts. The second fermentation takes six months – and adds to the richness and complexity of the wine.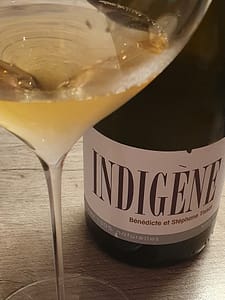 Indigène (S. Tissot)
Straw yellow. Aromas of clementine, yellow apple, spices, dried fruit, bread and nuts. Glyceric, smooth with good concentration, and a long salty finish.
Price: Medium