Bodega Chakana delivers at a generally high overall level. So also their so-called entry-level malbec, where the price is next to nothing. (Read about another of their wines here.)
Chakana is a family owned winery located at 960 meters altitude up towards the Andes in Agrelo, Mendoza. It represents a new generation of local terroir-conscious winemakers. The name of the project is what the indigenous people in the area called the southern cross constellation (Crux).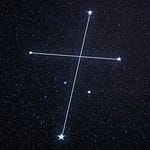 This is how the bodega describes the naming: "Chakana is believed to hold the key to finding the perfect timing for the cultivation and harvesting of crops – a calendar, compass & symbolic link between earth and spirit. On May 2, 2002, the Chakana reached perfect vertical position in the sky, marking the beginning of a new farming cycle. It was then that Chakana's founder Juan Pelizzatti chose its name for his winery, paying homage to the Incan understanding of and respect for nature."
Winemaker is Gabriel Bloise, who has experience from both Europe and Australia. The farming at Chakana can be described as biodynamic, with spontaneous fermentation, natural acidity, minimum or no sulphur, and the wines are never clarified nor filtrated.
Their vineyards are orientated 45 degrees north west to maximize fruit expression. According to themselves this is "a surprising example of synchronicity, as this is the exact route that the Andean development chose". This is called the Viracocha line, or the "Line of Truth" of the Incas.
For Chakana this planting direction was chosen for best canopy protection of the grapes during the highest temperatures of the day.
For this wine 60% of the grapes are from Luján de Cuyo in Mendoza and the rest from La Rioja (some 600 km to the north). The grapes were cold-macerated for 3 days, then fermented in steel and cement 15 days.
Malbec 2018 Organic Wine (Bod. Chakana)
Dark cherry red, blueish hue. Fruity, mature dark berries (blackberry), plum, some spice. Juicy yet a bit carbonic in the mouth, with soft tannins, firm and slightly bitter finish with a slight (and pleasant) touch of vinegar (maybe in lack of a better word).
Price: Low
Food: Many types of meat, also red, grilled and slightly spicy, roast duck, casseroles