This wine is, like last week's selection, from our recent tasting of Argentine wines. The name is Blanc de Noir, a well-known expression from Champagne denoting white wine from black grapes. Here the producer has admitted a tiny amount of colour to get through.
We have been used accustomed to the thought that good (some would think: all) Argentine wines come from Mendoza. But El Esteco is found in Cafayate, a small town in the Calchaquí Valley, province of Salta. We are in the very northwestern corner of Argentina, at an elevation of 2.000 meters, with poor alluvial soils. The marked temperature ranges of the valley encourages a long maturation period.
The grape is pinot noir, grown in a finca called Chañar Punco and harvested by hand in the early morning hours, whole bunches pressed very lightly and slowly, and elevated in steel. Truly fascinating!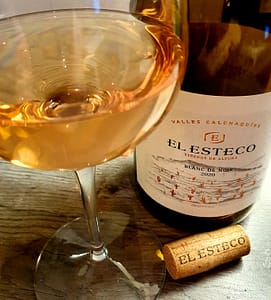 Blanc de Noir 2020 (Bod. El Esteco)
Light salmon pink with a touch of onion-skin. Delicately fruity, of medium intensity, of redcurrant and some herbs. A bit glyceric and tannic in the mouth, yet fresh acidity shines through.
Price: Low
Food: Fish and shellfish, salads, light meat