As it draws closer to summer I have tested some rosés. Here is one with a strong personality, and indeed a gastronomic wine that's not restricted to be enjoyed on beaches and balconies.
The Roxanich winery has been a favourite after several fairs for natural wine, most recently at London's Rawfair, where I took this picture of Mladen Rožanić.
It was created as a hommage to the Adriatic resort of Portorose, to smell like the freshly cut roses in its chic gardens. Now it has, in the words of the producer, "matured into a wine that can be enjoyed year-round for a refreshing reminder of summer". 
It's made from the indigenous grape varieties borgonja istriana and teran in western Istria. The vineyard has an elevation of 167-188 m and the facing is more or less south. The must was macerated with only 1-2 hours of skin contact. The malolactic fermentation was completed; and the wine was bottled without filtration.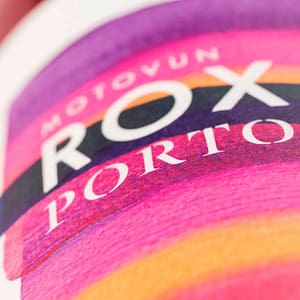 Portorose 2021 (Roxanich)
Dark rosé with a peach coloured tone. Aroma of sweet fruits (melon, ripe raspberry), roses, herbs, onions, earth. Vivid, tasty, with a light tannic grip, slightly sweet nuances and a fresh acidity to balance.
Price: Medium