This wine can be said jo be dangerously drinkable. It' contains "only" 11% alcohol, but it's hard to stop once poured, with all its inviting fruit and low acidity (5g, the 2021 has only 3, by the way).
Domaine Cazes has been producing wine since 1895 in Rivesaltes, south of France. Cazes is operated according to biodynamic principles. Cazes is France's largest certified producer of organic and biodynamic wines with 220 hectares of vineyards. (Read about a vin doux naturel here.)
This wine is made with traditional maceration, and fermented without yeasts for 6 days at low temperature (between 19 and 22°C). It was pressed with integrated presses. The end of alcoholic fermentation took place in in wooden vats before racking, then malolactic fermentation. The appellation is IGT Côtes Catalanes.
Finally a piece of ampelography ("grapeology") here: Samsó is a synonym for cinsault in this part of Catalunya, also spelled sinsó. Samsó can also refer to carignan (a much more thick-skinned variety).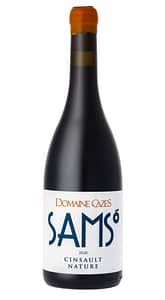 Samsó 2020 (Dom. Cazes)
Light red, violet rim. Fresh and fruit-driven with raspberries, wild strawberries, hints of licorice. Medium full, rounded, some spices at the end.
Price: Low
Food: Delicious on its own, with charcuterie, patatas bravas, pasta…