In naming a restaurant, managers can provide a headline, if the content follows suit. Here it does. The relatively new restaurant Bravo of Stavanger's ever more trendy eastern district can be summed up like this: Good food, a select wine list at good prices in a cosy atmosphere.
The food is down to earth but it comes with a creative twist. At the moment the menu consists of eight medium-sized dishes from mainly local ingredients, and a number of snacks. The by-the-glass wine list contains around 20 references, and there is also a longer wine list. The selection largely consists of what you would call natural wines, and all of them are made in an organic, sustainable way. To call the pricing moderate would be an understatement. Look carefully and you can find wines at only 1,5 times the price of the state monopoly.
We were there last Friday, and one of the owners, Rakel Juklestad Helgheim, guided us through four courses and nine wines, assisted by her partner and chef Daniel Vigdel Hansen. Eight of these were chosen from the glass menu and the last one was kindly offered from the longer list by Rakel and Daniel. The platters were shared and most of the wine glasses too.
While enjoying some Spanish olives from the snack menu we decided to go with smoked salmon from producer Jana, right down the road, with carrot and a creamy cheese. It was followed with beetroot with almonds and guasacaca (a Central American sauce), for me the best dish of the evening. Tender cucumber slices struggled to compete with the tasty crab with mustard and lime. Then the kitchen excelled again with a seafood platter with baked ling and spring onion in a mussel sauce with celery and soy.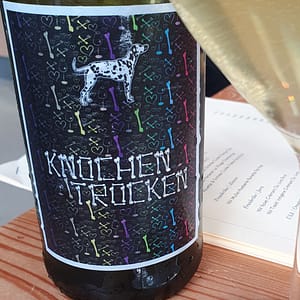 Knochentrocken 2021 (Der GlücksJäger), a sauvignon blanc-chardonnay-riesling from Pfalz, had the volume and roundness that often come with the varieties, with matching acidity. It has some yellow colour, an unfiltered appearance, with melon and lime aromatics.
More mineral with a stony character, sea and salt and some pear was the next, La Mer 2022 (Dom. de la Fessardière), a Muscadet, before we with Alsacian Sons of Wine's Soulographie 2021 were back in a darker and richer style. Made from all the so-called non-aromatic grapes of the region (pinot blanc, chardonnay, auxerrois, pinot gris and riesling) it was nevertheless aromatic, with mature apples, flowers and fennel, and full on the palate with a fresh acidity.
It's not every day that we can add a new Chablis to the repertoire. Pommier's 2021 would deliver. It's light yellow/golden, and smells of green apples, lime – and luckily only a touch of butter. In the mouth it's concentrated and full of flavour, and has a long, saline finish.
Malterdinger 2020 (Bernhard Huber), a chardonnay-weissburgunder (pinot blanc) from Baden came in a light, greenish robe. It showed a richness on the nose, with herbs and butter. The oak was maybe more evident on the palate, and added to the feeling of fullness. I would have given this wine a few years in a cellar.
Scions of Sinai is located in Stellenbosch, South South Africa. Nomadis 2020 is based on cinsault, with contribution of pinotage. Ruby red with red and dark fruits (blackberry, raspberry) and spices. Luscious and savoury. North to Germany and Pfalz, Lebenshilfe is an ecological and social organization, offering work for people with intellectual disabilities. Together with the professionals they have here made the fruity Spätburgunder Trocken 2020, a wine with cherry and raspberry fruit, combined with spices and a touch of vanilla. On the palate the fruit follows up, a bit spicy and with a light structure.
Clotaire Michal offered a structure and dark entry for a beaujolais gamay. Maybe not strange, as he had worked several places in the Rhône Valley before settling there. A Fleur de Peau 2019 opens with an animal whiff together with raspberry, plums and spices. It follows up with an impressive structured palate. It's first of all impressive to taste now, and a terrific gastronomic wine for tasty dishes. However it would easily benefit from a few years more ageing. Back to a white wine, or to be exact… Matassa of Roussillon makes all their whites with skin-contact, so the colour would be darker. Cuvée Marguerite 2021 (predominantly muscat varieties and some macabeo) is no exception: Light orange or amber colour, slightly turbid. On the nose there is citrus, white flowers and peach, and in the mouth it's grapey and quite full, also with a slight tannin.
Leave a Comment