the Raw fair was postponed due to the threat of the coronavirus. But I decided to go anyway. And the first thing I did was heading for the Bar Douro, a few blocks from my hotel in Southwark. In a way I continued my Portuguese experience from last week, and started with Folias de Baco's Douro sparkler Uivo Pt Nat, and also had Anselmo Mendes' vinho verde Contacto, this week's choice is a Portuguese vinho de talha, a clay wine. Alentejo has a long tradition for this, and producer Herdade do Rocim is even hosting a talha wine festival.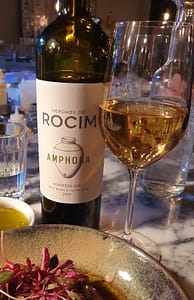 They use the word amphora on the label though, not talha. It was made from the varieties antão vaz 40%, and 20 each of perrum, rabo de ovelha and manteúdo.
Winemakers are Pedro Ribeiro, general manager and his wife Catarina Vieira. The wine was made in the traditional way, in clay pots, with no temperature control. Only indigenous yeasts were used, there were no additions, nor any corrections of the must. The wine was bottled unfined and unfiltered. It clocks in at a sympathetic 12% of alcohol.
Herdade do Rocim Amphora 2017 (H. do Rocim)
Golden colour with a hint of brown. On the nose it plays with oxidation: The yellow fruits are dominating, but behind is a layer of smoke, nuts, some resin and smoke. It is dry, has some structure, and is also driven by salty minerals.
Price: Medium
Food: A variety of fish, shellfish and salads. It goes well to lighter meat dishes, like the pork cheeks that I had.