This was my first opportunity to visit restaurant Angr of Stavanger, Norway. It's a restaurant that serves natural wines with nicely elaborated food with interesting tastes. Their by-the-glass list is not very extensive, but they will open bottles outside the menu too.
We had whites from Swartland (Mother Rock) and Beaujolais (J.P. Brun) and reds from Crozes-Hérmitage (Les 4 Vents), and for the second time Swartland (Badenhorst).
Then we had this fabulous, energetic wine also from Swartland, South Africa. Jurgen Gouws of Intellego tells that after a great surfing experience in Bali he ended up naming the wine after a special spot, and thus transferring the surfing energy to the wine.
It was whole bunch fermented under semi-carbonic conditions for 8 days in stainless steel tanks and aged in old barrels of different sizes.
It's made from Rhône grapes syrah 50%, cinsaut (he spells it without an -l-) 20% and mourvèdre 30%, dry farmed bush wines.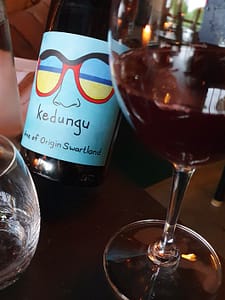 Kedungu 2019 (Intellego)
Ruby red. Scented, aroma of wild fruits (cranberry) and plums, with a hint of black olives. Juicy in the mouth, light tannin, fruity, and finishes off dry.
Price: Medium
Food: We had it with smoked salmon and tortillas, but should go well with a variety of salads, white fish and light meat.