Here is another varietal cinsault. This variety can be said to be in fashion today. The reason is probably that many vintners have seen its virtues as much more than a grape for blending. Today it's used many places, in particular have we seen many interesting wines from South Africa. Here is one from southern France, where we used to meet it most often in the past.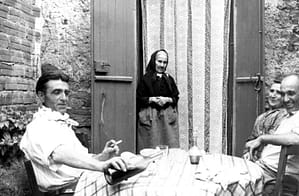 (Credit: Mas Onésime)
Mas Onésime is located in La Liquière, one of the tiny villages in is hillside of the Faugères appellation. The domaine consists of 12 hectares within the village.
Vigneron Olivier Villanueva talks about the many colours of the schists in Faugères, "from ochre and grey to orange with deep blue veins". This sub-oil is among the oldest, and consists of gravelly schists that date, in his own words "back to the beginning of time".
Most of the vines at the Mas are fifty years old, in steep vineyards with breathtaking views.
The grapes are harvested by hand, sorted, de-stemmed and brought to the cellar immediately after being picked. The grapes are placed in vats, without pumping and using only a natural gravity. Olivier strives to make authentic wines, with techniques as natural as possible.
This wine is only cinsault, hand harvested, sorted and fully destemmed. The yield was 25 hl/ha. It had 14 days of maceration in stainless steel tank, and also ageing in a tank for 14 days.

Le Cinsault 2016 (Mas Onésime)
Ruby red. Aroma of red berries (raspberry, plums), thyme and a touch of white pepper, juicy, luscious, supple in the mouth, with only a slight tannin and a pleasant natural acidity.
Price: Medium/low
Food: Light meat, try also lamb with provençal herbs, ratatouille, salads, grilled fish