Jurgen Gouws makes cool, fresh and focused wines in Swartland, South Africa. An earlier assistant winemaker under Craig Hawkins at Lammershoek, he soon established his own label Intellego.
The rented vineyards and the wines are managed with least possible interference. He was one of the first in Swartland to experiment with skin-contact for Chenin Blanc, very lightly in the fabulous (almost) orange wine Elementis.
The vines used for the Pink Moustache were planted in 1988 and 2001. The grapes are syrah 59%, cinsault 33% and mourvedre 8%. Whole clusters are pressed before spontaneous fermentation four days in used barrels. The wine matures 5 months, also in used barrels.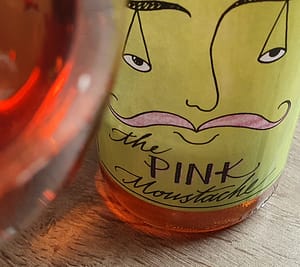 The Pink Moustache 2020 (Intellego)
Light ruby ​​red. Aroma of dark and red berries (raspberries), flowers, herbs and pepper. Luscious, juicy, with a light tannin touch, and just enough acidity. Lovely glou-glou, best lightly chilled.
Price: Medium
Food: Light meats, pizza, pasta, salads and cured meats.