There were several wine fairs that were postponed due to the uncertainties around the coronavirus outbreak. But as far as I know this was the first major fair, and the only one so far that I planned to attend.
Luckily there were many danger-seeking people like me, who decided to go anyway. One of them was Carles Mora Ferrer of Penedès, one of the heroes in this story.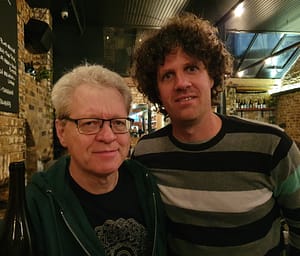 As readers of this blog may know, Raw is a fair for natural, artisan producers and seeks to highlight the "poetry" in the wine. And it has become something of a worldwide community, as the fair has expanded to places like Berlin, New York and Toronto.
Sager & Wilde, Ries & Shine, Antidote and Dandy were among the restaurants that were registered in the #rawwineweek program. And Lady of the Grapes was hosting an event on Women's Day 8th March. I used the opportunity to visit Elliott's, as you will soon hear more about, but also favourites like Flor, the Spanish tapas place Brindisa, and the Portuguese Bar Douro (read a post from my visit here). I attended two tastings held by several importers. And the first thing I did was making an appointment with a rising star of British wine, the Tillingham winery. (There will be more about this in the next post from the "fair".)
Elliott's Café
At Elliott's Café, Borough Market I had four wines this time, the two from Clot de les Soleres offered in the by the glass-selection. Allow me first a few words on the winery. In Piera, close to Sant Sadurní (the Cava capital) lie Carles Mora's family vineyards, abandoned since the 1960's. Many years later Carles planted some cabernet sauvignon there, and the intention was clearly to make natural wine aged in amphora. Today he and his partner Montse hav 5-6 hectares of not only cabernet, but also chardonnay, and the local varieties macabeo and xarel.lo, that they tend organically, and there are zero additivies in the vineyard or cellar, except for a little copper/sulphur in the vineyard when absolutely necessary. The vineyard lies around 300 meters above sea level, on calcareaous soil, with small stone and pebbels. There is a Mediterranean climate with a lot of sun, but also a breeze from the sea that regulates the temperature so the grapes will not be "baked". They want to express the terroir, but also the grape variety. So for that reason, only varietal wines are made.
Clot de les Soleres Macabeu 2018 was a pale, slightly pétillant wine, pears and flowers scented, with lovely lemony acidity. The red Clot de les Soleres Cabernet Amphora 2018 was deep dark, dominated by black fruits like blackcurrant, but also with a mineral touch, and well-structured and very vibrant in the mouth.

Aside from this I had the V&S Bacchus 2018, from 2naturkinder of Franken, Germany. This was golden in colour, with orange peel and flowers as dominant aromatics, and full and "orangey" in the mouth. Last this afternoon was Rivera del Notro 2018 (Roberto Henríquez), from Bio Bio of Chile, made from the país variety. The wine was light cherry red, with raspberry and some ethereal note. Quite firm in the mouth, and moderate acidity.

Elliott's has delicious small dishes to go with the wines too. After recommendations from the sommeliers I chose stratiacella (an eggsoup with cheese and nutmeg) culatella (a cured ham from Parma) and hake ragu with the four mentioned wines.
Tasting at Weino BIB
Fernando Berry from Elliott's is involved in the import company Otros Vinos. Together with a couple of other importers they invited some of the visiting producers to the small wine bar Wineo BIB near Dalston Junction.
So let's go back to Clot de les Soleres. At Weino BIB Carles served both white, rosé and red wines, still and sparkling. Some were samples, as far as I remember. I hope I have got the names and vintages right. All the whites have been pressed before they ferment in steel, spent the winter in tank and bottled in spring. After the same Macabeu as at Elliott's the other afternoon there was the Chardonnay 2017, a light, clean and citric wine, mellow in the mouth and with a year more it has achieved a good balance between alcohol and acidity.
The Xarel.lo pét nats (Ancestral I think the name is), vintage 2015 and 2017, were fascinating. With 30 grams in the 2015 when it was bottled (less in the finished wine because it continues to ferment) golden yellow in colour, with an aroma of mature apples and lots of bread from the autolysis; rich and mouthfilling, with a sweet touch, but nice acidity to match. The 2017 was made in the same way, but behaved differently. There were muh less bubbles, more green apple character, citrus and pineapple, some ginger and herbs too, and also some toast, and an excellent acidity. The Chardonnay 2018 pét nat came from two tanks. It showd ligh yellow, more fruity and citric; still with an unfulfilled potential, but with time this will also get a good balance between sugar and alcohol.
I tasted the Rosé Cabernet Sauvignon 2017, a very pale, peach-coloured wine (pressed less than one hour), flowers and strawberry-scented, quite soft but with good acidity, before turning to the reds. The Cabernet Saugivnon 2014 (from 22 year old vines) had only been in tank. It was dark after six years, with typical cabernet aromas such as blackcurrant and a vegetal component; slender in the mouth with a nice structure. Cabernet Sauvignon 2016 had stayed 13 months, then bottled. Also dark, and very fruity, with blackcurrant, green pepper, sour cherries, and an inspiring acidity. It comes with 14% alcohol, but it's well integrated. The Cabernet Sauvignon 2017 were made in the same way, except for a period in three amphoras of 700L (from Extremadura, because of the quality and type of clay): This one was a little more on the "wild" side; more sour cherries, also with more red berries; quite big in the mouth (13% alc.).
Near Clot de les Soleres, in the tasting room but also the Catalan bodega itself, is Ferrán Lacruz. He runs the Bodega Clandestina in the village of Sant Martí Sarroca, not far from Vilafranca del Penedès. The farm has 8 hectares, of which 3 is planted with vines. The bodega name has inspired the titles of the wines too, Blanc Sence Papers, Fugitiu, Censurat and Confiscat. I think there is no need to translate, please tell me if the contrary is true. The first vintage was 2018. It's an organic and natural project, no additives, not even SO2, and he works outside any appellation.
All the wines are samples from the 2019 vintage, so I will just go briefly through them. Blanc Sense Papers 2019 comes from a more than 50 years old xarel.lo vineyard. The grapes from the three plots were harvested seperately at different times to ensure perfect ripeness, the different harvests are fermented in steel and aged in demijohns for different periods of time, and the last harvest kept in oak for 4 months, before blending it all and bottling unfined and unfiltered. -I base my wines on acidity, says Ferrán, -and I like Bourgogne Aligoté, he answers to my question what he tries to achieve. And acidity he has managed to retain. It really is acidic. I am not sure if it has the body to match, but time will show. The Blanc Fugitiu is another varietal xarel.lo with three weeks maceration. The skins are always inside the wine, as it is held down with an inox net. It finishes in 500L barrels and amphoras from the French side of Catalunya. This one is much more textured than the former, in the sense of tannins. It's a bit more funky too, but has nice flowers and citrus peel aromas. Orance Censurat is a carinyena blanc with 4 weeks skin-contact, then aged in amphoras for 5 months. Also a bit on the funky side, but very nice citric notes and quite floral too. The Ancestral Confiscat is a xarel.lo sparkling wines with one year and three months ageing in bottle. The colour is yellow, and there is an abundancy of bubbles; very fruity, appley character with evident autolysis. A promising sparkler.
Le Quais á Raisins is a producer from Aubais in the Languedoc, started in 2015. They are Imogen and Robin, from England and Alsace respectively, who met there while studying. They have also worked abroad, being inspired by and have worked with the Swartland Independent Producers of South Africa, to name just one of the places they have experienced. Imogen was represented here. They only own 1.5 hectares, but use grapes from friends in Languedoc, Roussillon and Rhône. Everything is organic, and some places biodynamic practises are also employed.
Among the wines were Umami 2019, a pét nat with 9 months on the lees from muscat and grenache with no sugar, and no SO2 added. A very nice wine with aroma, a bit peachy, some brioche; it was mouthfilling, with nice acidity, and a saltiness at the end. Méridional 2018 from rolle, grenache and muscat, was floral, but also mineral, and very fresh, – fermented in tank, and some 15% in neutral wood. Embruns 2018, made from macabeu in alluvial soil, was light, pear-like in aroma, there was a little more oak-influence there, and some smokiness. A really interesting one was Syrault 2018 (from syrah and cinsault) from calcareous loess: Cherry red; aroma of blueberry, flowers, mint, pepper; a little sweet sensation in the mouth, but after all an easy-drinking wine. Then a delicate, yet fleshy amphora-aged cinsault called Lopin 2018. Before we rounded off with the Garmatcha 2018 (a grenache, or garnacha grown on limestone and gneiss): Darker colour (because of small yield, more extraction, more punch-down), 18 months in 400L oak (some young, some neutral): It had a intriguing smell of chalkiness, red fruits and herbs, a fruity and well-structured, concentrated taste with some coffee/lickorice towards the end.
Matthias Hager is located in the northern part of the Kamptal, and is known as one of the most creative producers in the area. He produces terroir-driven wines from his 14 hectares of vineyards, from Mollands, his hometown. He has had a biodynamic certification since 2005. He works with different soil types, like loess and clay. He uses different product lines, literally speaking: A label with a blue line represents a fresh and young wine, while a brown line denotes more earthy, flavorful characteristics. Red line stands for no sulphites.
Here are the wines he brought, in brief: Grüner Veltliner Mollands 2018: Light colour; fruity, with pepper and other herbs; smooth, quite concentrated, dry and salty. Grüner Veltliner Urgestein 2018, from schist soil, 10% skin-fermented, made in old oak and steel: This one is more yellow, more mineral, also with peppery tones; good weight in the mouth, and evident acidity. Completely natural. Riesling Alte Reben 2016, 10% skin-fermented for 6 weeks: It's light yellow; flowery, fruity (but also some mineral); in the mouth it's textured, rich. A nice take on a riesling.
Riesling PUR 2015 is a wine with 100% skin-contact for 3 weeks: Golden colour; a bit waxy, appley, with ginger and some honey; full in the mouth, textured and with a good acidity. Lastly the Zweigelt Blauburger 2018, an "Austrian merlot", as Matthias called this second variety (a cross between blauer portugieser and blaufränkisch, noted for colour, not tannin or acidity). The grapes were grown on clay (the zweigelt), loess and schist soil. The wine is blueish; smells of red berries, some green components (pepper), herbs; it's clean, soft, luscious and also crispy.
Stay on this channel for more from the first restaurant.