Esporão has been among the leading wineries of Portugal since its foundation in the early 1970's.
Not only are they big. Well they are; their Alentejo property is vast, the sales are good, and they have several well-known brands in the market. So when in Portugal, if I've had a plain bacalhau at a modest restaurant, there is almost always an Esporão at hand, such as the Monte Velho.
But they are also leading the way with many sustainable projects, such as reducing the bottle weight, fighting to stop the dam at river Tua, Douro, where they have a second winery. But more than this, then have a holistic approach, and in every aspect they seriously take the responsibility they believe that they are given.
I keep coming back to this wine. Made from touriga nacional, aragonêz and cabernet sauvignon in equal parts, the grapes are destemmed, fermented in open lagares for 10 days, and kept in steel. Eco-friendly, eco-nomic.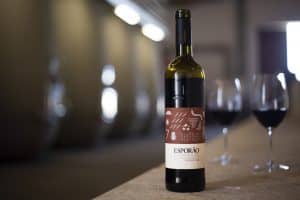 Esporão Tinto Colheita 2017 (Herdade do Esporão)
Deep purple. Fruitdriven (mature dark berries), plums, aromatic herbs, some lickorice. Round, juicy, fruity with some acidity.
Price: Low