Les Vins Pirouettes is a label created by Christian Binner. The idea is to give selected growers the opportunity to launch their ecologic wines under an established umbrella. Here it is Raphaël who offers his elegant crémant zéro dosage. (You can find more from the project if you search these pages. Here is another, also by Raphaël.)
This week's wine is a Crémant d'Alsace from 2018, made from riesling 60% and pinot gris 40% planted 1970 in chalky soil. It's spontaneusly fermented, spent 24 months on lees and was bottled without added sugar.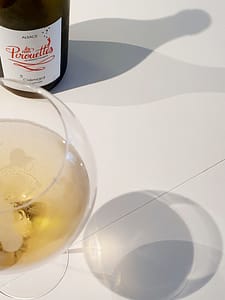 Le Crémant de Raphaël 2018 (Les Vins Pirouettes/ C. Binner)
Light yellow, small bubbles. Aromatic, yellow apples, lime, bisques. Fresh, dry, good acidity, quite long.
Price: Medium
Food: Apéritif, salads, white fish, shellfish, lightly spiced food…