Castello di Rubbia has been highlighted before. Here you can read more about their Friulian wines and their estate near the Slovenian border.
Just a brief introduction: They are found in Carso, called Kras on the other side. Their village is San Michele di Carso, where they dispose of the 13 hectares historic Ušje vineyard, with its rocky terrain of limestone and red soil. The winery enjoys long macerations and fermentations with indigenous yeasts.
This wine is made from around 20 years old vitovska vines. Manual harvest is carried out quite late, towards the end of September. The grapes are de-stemmed and fermented with natural yeasts in steel vessels and macerated on the skins for around 20 days. While fining is done naturally over a period of 1 to 1 and a half years, the wine also undergo malolactic fermentation. After three years it's then bottled without filtration.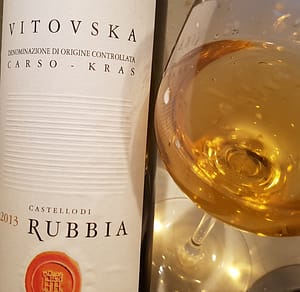 Vitovska 2013 (Castello di Rubbia)
Dark yellow/golden. Intense aroma of white flowers, herbs or hay, dried fruits, and a touch of honey. Full on the palate, good concentration, and a stony minerality.
Price: Medium
Food: Very versatile, and can go well with light meat, rice dishes, omelettes, salads and vegetables, charcuterie, Asian, seafood…