Before the
Vins Nus
and
Vella Terra
wine fairs started in Barcelona I took the opportunity to travel around l'Empordà – together with a good friend, Malena Fabregat, wine writer and distributor.
We visited two producers of natural wine, one well-established classic, and one up-and-coming estate, both in the same vicinity – Carles Alonso and La Gutina.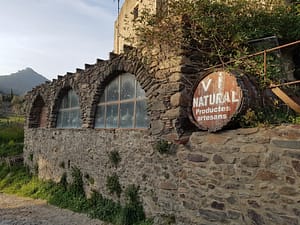 Carles Alonso is maybe the foremost  pioneer of Catalan natural wines, having started back in the late 1970's. He is certainly not the most well-known figure, but this is only due to the fact that he has never seeked the limelight, and it has not been necessary either, as he has easily sold everything from his bodega at the entrance of the Els Vilars village.
Carles is self-taught, and he hasn't felt it necessary to join either fashions or denominations. He owns between 4 and 5 hectares of vineyard, and there he works about 10 varieties, most local, but also some foreign that have adapted well in Catalunya. He does all the work himself. -My daughter helps me a bit though, he admits, -and of course at harvest times there are many people here.
The altitude is never really high in l'Empordà. Here we are about 15 km from the sea and at 230 meters altitude. The Tramontana wind is always noticeable in the area. Carles has a lot of knowledge, and likes a good discussion, and some good jokes. After having joked about bad things in France (politics and weather) he gets more serious: -I am from the Mediterranean, born in Barcelona. So this is my terroir. I make strong, thick wines, full of alcohol. I harvest only 0,5 kg per plant, never prune in green, I never move a leaf… And I harvest late (i.e. September). Many look for acidity, and the only thing they get is acidity.
Carles explains to Malena
The wines ferment in clay amphora, and never see any oak. He makes white and red wine. But it's the sparkling wines from the ancestral method that are the most prominent.
No chemicals are ever used either in the vineyard or in the cellar. The wines ferment with their own yeasts, without added sulfites, or any other additive of any kind.
We tasted his Blanc Petillant (macabeu, xarel.lo, garnatxa blanca, parellada and chardonnay) both 2009 and 2018. It was quite dark at his desk, but the 09 seemed dark yellow towards orange, smelled of pears, plums and mature apples, was rich and with generous alcohol, but balanced and harmonious. -It is its own category in a way, Carles said, and we could well agree to that. The 18 followed the same line, at 13,8% alc., but was obviously younger. Light straw colour; pear, some citrus (lime); full, with some oxidation (a touch of bitter almonds).
-I used to offer fresh wines, he says. -Like make 4.000 bottles of rosé and sell it to tourists. But in 2001, after I discovered how good a mature wine could be. Then I started to lay some years behind, on purpose.
We also tasted two reds, the Carriel dels Vilars Tinto (garnatxa, syrah, cabernet sauvignon, carinyena) 2018 and 2007. The 18 was dark red with lovely fruit, still some carbonic, and obviously still with an ageing potential. The 07 had no oak, -I am totally against it, he stresses. Ok, I see that old oak can work for micro-breathing, but it's not for me. It was cherry red with mature nuances; smell of plums, cherry and some compote; drying a little in the mouth, but still full of life.
La Gutina
Only ten minutes away, in Sant Climent Sescebes near the Vilartolí village, we find La Gutina, which means Joan Carles Torres and Barbara Magugliani.
It was a wild landscape. -Here was "nothing"! It's really difficult to find areas like this, in the middle of Europe, says Joan Carles enthusiastically.
Joan Carles Torres
Joan Carles is 4th generation. It was his father who started replanting, a work that Joan Carles and his Italian-born wife Bárbara continued. They also recovered the oldest vines on the estate, and it was only in 2010 that  they sold bottled wines for the first time.
Joan Carles and Malena
There are three dolmens within the borders of the estate, and also menhirs (the long stones, like in Stonehenge). These are from the Neolithic period, maybe 7.000 years ago.
We are 250 meters above sea level. The estate is 80 hectares, but they have only 8,5 hectares of vineyard. The varieties are mostly garnatxa and mostly old vines, but also carinyena, ull de llebre (tempranillo), cabernet sauvignon and others.
The soils are granite and sand, with some small plots of quartz. This is mainly towards the ocean, because there has been less erosion there. The climate is of Mediterranean influence, but dry and windy, and with a strong variation between day and night temperatures in summer.
As we have already mentioned, the tramontana wind is often present. It comes from the north, via the Rhône and can reach 180 km/h. It's probably the same wind that's called mistral in Provence and cierzo in Tarragona and Baleares.
Estanys de la Gutina, a small lake on the estate. -La Gutina is here, says Joan Carles, -the place, the territory.
Very old vines inserted in 1961
Bárbara meets us at the outdoor tasting table, provisionally set up in the lovely February afternoon
Everything is organic, and there is a functional biodiversity. The harvest is manual, the wines are fermented with natural yeasts and without added sulfites. -The main threats are wild boars and wild cows, says Joan Carles. These 'vacas salvajes' were domesticated before, but escaped during 2-3 generations.
They prefer to work with cold temperatures, 8-10°C for whites and rosé. The picking here is quite early to retain acidity, this year it started as early as 23rd August.
The wines are really promising. We tasted most of the range. Here are a few.
Barba Roig 2018, a garnacha gris with four hours of maceration: Light colour; still quite restrained in aroma, some pear and apricot; more potent in the mouth with matching acidity.
A couple of wines had a slight mousiness, which I hope they can escape from with time. Nothing of that in the next wine. Joan Carles said about his tempranillo vineyard: -My first vineyard, my first mistake. I don't agree. Murtra 2017 is the tempranillo, with 5 days skin-contact, no cold-maceration. Red cherry colour; bright red fruits, cherry, some blackberry; young and fruity with evident tannins.
Demontre 2017 (meaning "funny little devil", a nickname his mother used for Joan Carles), is a garnacha made with 20-25% whole bunches. The wine has a light ruby colour; it's flowery, very fruity with fruits from the forest; rich in the mouth, a slightly bitter finish, and some alcohol present. Somehow easy, but with character.
Idò 2016: Idò is a "waiting word" in the Balearic, if I remember right, and it also denotes the English "I do". It's a garnacha too, this one with one year in old oak (6-10 years): Light cherry red; red fruits, dried fruit (like figs), some balsamic (pine); vibrant in the mouth, fresh acidity, and some tannin.
Life goes on. Joan Carles and Bárbara is living a good life. Joan Carles' great passion is to be a fireman, to protect from catastrophes to occur and to "prevent", he says, and sometimes he does "gigs" for the local brigade. A musician from Salif Keita's band, who works on the farm, gives him occasional drum lessons too. But we must leave for Barcelona, so the jam session must wait until next time.