I am back in Brighton for the Real Wine fair that is coming up, starting on Sunday. And I am back at Plateau, the natural wine temple close to the city hall. (See one of several write-ups here.)
This time one of the wines is the Fusion 2017, a varietal gamay made by Vincent Marie of Domaine No Control, in Auvergne, some 150 km west of Lyon.
He explains on the website that the wine is named after a music style that he likes very much, in this case it's the mixing of hip-hop and energetic rock. The wine is pure gamay, but it's a fusion between gamay from Auvergne and gamay from Beaujolais, and also between two types of vinification.
The parcel is south-facing, and the vines between 15 and 110 years old. The wine is made using whole bunches in two vats of fiberglass. In the first vat the grapes were trodden to make som space in the vat, then maceration of whole bunches. In the second there was carbonic maceration. Then the two were blended, and macerated for three weeks – without any additions.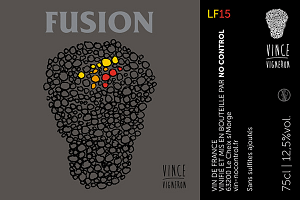 Fusion 2017 (Vincent Marie, Dom. No Control)
Light cherry red. Fruity, violets, red fruits (raspberry, cherry) and blueberry on the nose. Juicy, kind of soft, but has also some fine-grained tannins.
Price: Medium
Food: Light meat, charcuterie, salads, bacalao and grilled fish