Finally I got the chance to visit Elliot's wine bar in Borough Market, on the south side of the Thames. The occasion was not only that I was in London for the Real Wine fair, but also that I visited the new big sax shop at nearby Blackfriars. In the wine bar I had three wines, among them Testalonga's Stay Brave.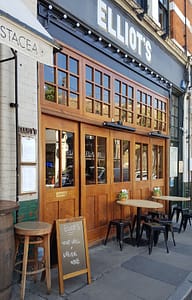 Elliot's opened in 2011 and has from the beginning offered a simple menu based on good ingredients in season. They deal directly with fishermen and farmers, all of them with a focus on sustainability. They cook over a wood fired grill, and the wine list is exclusively comprised of natural wines from small artisan growers.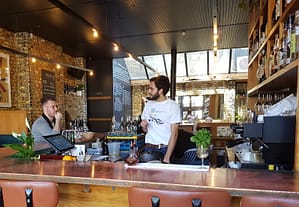 I had two small plates, first courgette, broad bean & herb salad, then beef tartare with green peppercorn, parsley and smoked Wensleydale (Yorkshire cow's milk cheese). And several of the waiters have the knowledge to guide you through the wines.
I started with a Catalan white, Nar i Tornar 2017 (Vinya Ferrer), mainly garnacha blanca and some macabeu, a tasty and slightly cloudy non SO2 wine. It showed a slight mouse taint, but was nevertheless good. It was followed by a Côtes du Rhône 2017 (Dom. Aphillantes), an un-oaked grenache-carignan-mourvèdre blend; young, dark fruit, spice (but not the sweet oak style), and luscious, drinkable at the same time that it also has some light fine-grained tannin.
From the "last pour" section (not on the list and changes according to what has been opened) I had a wonderful wine from Testalonga. This is Craig Hawkins' project in Swartland, South-Africa, and one of my favourites right now (I have two opened chenins of his in my fridge at the time of writing).
Stay Brave 2018 is pure chenin blanc. The names in the producer's Baby Bandito series come from the encouragements you give a child, and the colourful labels are inspired by street artist. It's made in steel, with 11 days of skin-contact and bottled un-filtered. It's a low alcohol (10,5) and high acidity (6,5-7g) wine.
Stay Brave 2018 (Testalonga Wines)
Yellow. Smells of fresh green apples, citrus (lemon), white flowers and ginger. Very fresh, fruity, quite concentrated, mineral and super elegant.
Price: Medium
Food: Worked well with my herbaceous, green plate. Can go with white  fish, grilled fish, light meat, Asian and a variety of cheeses