Before London's Real Wine fair I usually go down to Brighton for a couple of days. Here is a new discovery.
After having been a bartender at Brighton's excellent Plateau wine bar Johan Fredrik Claesson, Swedish-born, took a job in the newly opened Cin Cin in a "chain" of two. Here at Cin Cin Johan has total control over the selection of wines, and the closing time is earlier – that would be the two main reasons that he decided to move.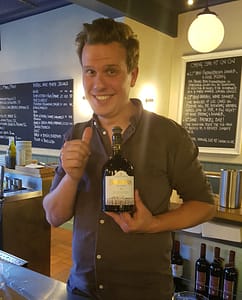 Cin Cin Hove is a neighbourhood restaurant, in Hove to be accurate, that since 2000 has formed a city together with Brighton. It is an Italian restaurant, with carefully prepared small plates. I had Agnolotti (a type of pasta typical of Piemonte) of garden pea and smoked ham hock and Crème brulée (an exception to the Italian).
Johan suggested a flight of four wines. First came the Arcese 2017 (VIttorio Bera), the name put together from the arneis and cortese grapes that normally make up this wine. It's a skin-contact white from the Asti area in Piemonte, golden in colour, aroma of white flowers and some peel character, a cool acidity and some carbonic that adds to the freshness. Quite easy to drink, after all. The second was an aged Barolo, Boscareto 2007, that we soon shall give some special attention. Then, the Bianchdùdùi 2000 (also from Bera), a moscato aged like a sherry under 'flor' for 16 years. Despite of this it's very fresh. It shows nice herbal aromas, it's quite dry in the beginning, it's full but not heavy, some texture, and with a touch of bitterness in the finish. Bukkuram Sole d'Agosto, a Passito di Pantelleria 2016 from Marsala based Marco de Bartoli, was the last wine according to the original plan. The colour is amber, it's concentrated and intense, with scents of dried apricots, dates, but also some citrus (orange). It's sweet of course, but beautifully balanced by a long acidity.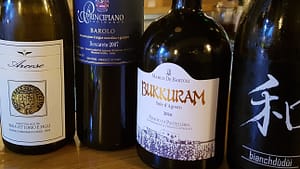 Some "obscurities" were thrown in along the way too, among them Therìa 2017 (Alberto Loi, Sardegna), a yellow coloured wine, slightly pétillant and rich at the same time, with notes of flowers, dried fruits, spice, made from the vermentino grape.
When I started to write this piece my plan was to present the Barolo in my wine of the week column, and I had a look at the background of the producer and the wine. So even if my focus shifted I still want to give it a special mention. Here we go.
Principiano Ferdinando is a young winemaker, third generation, and in charge of the family estate in Monforte d'Alba since 1993. In 1946 the six hectares were planted in Serralunga d'Alba, that were to become the plot where they source the grapes for their top wine Boscareto. In the Serralunga very few take the risk to run the plots organically, but Principiano's vines stand out. The only treatments are copper, and some sulfur only when necessary. The soils are calcareous, with very good drainage, and various crops are planted to help creating a functioning biodiversity and to add to the health of this south-west facing vineyard. In the cellar only natural yeast is employed for fermentations, and the sulphites are kept to a minimum. The barrels are big and old, Slavonian and French oak.
Boscareto 2007 (Ferdinando Principiano): Developed, cherry colour; intense aroma of mature red berries (cherry), forest fruits, spice and smoke; in the mouth it's concentrated, yet with fine silky tannins, long. A lovely wine with still some years to go. The price is quite high, but worth it.
Next time in Brighton I suggest you pay Johan and his collegues a visit. It's less than half an hour's walk from the city centre, and the buses go west along the Western Road all the time. There are passionate wine people who gladly share of their knowledge and enthusiasm. Recommended.