This is the second report from this year's Simplesmente… Vinho, of Porto. The first one was about the Portuguese participants, and you can read it here. This one deals mainly with Spanish wine, with one exception.
As soon as I entered the Cais Novo I ran into Alejandro of Bodegas Forlong. There is a lot happening in the sherry region right now, and I visited him when I was doing reasearch for a magazine article about table wines from the Jerez area. A shorter version of the article can be read here, and a wine of the week post here. In Porto Alejandro was together with his life companion Rocío.
Alejandro Narváez and Rocío Áspera
So why not start with a tasting of wine from sherry grapes and albariza soil? The wines I knew from before delivered, such as the Forlong Blanco 2018 (palomino 90%, the rest PX, grown in albariza soil), with its roundness and at the same time enough acidity, almonds and a saline minerality. Much of the same applies to the Rosado 2018, a 100% cabernet sauvignon, with its colour of onion skin, its creamy character and also a light tannin. We could go on through the Petit Forlong 2017 (syrah, merlot), the Assemblage 2016 (merlot, tintilla de rota, syrah), and the Tintilla 2016, with its dark smell of ink, blackcurrant, and that in a way also plays with oxidation.
A wine I can't remember having tasted before were 80/20, a non SO2, unfiltered wine, made of must from palomino fermented on skins of PX: Light pineapple colour; some tropical hint in the aroma, peel; round and smooth, yet fresh, well a little mousy, but with a nice mineral salinity. Equally interesting was Mon Amour 2017, palomino from the hardest type of albariza, called "tosca cerrada". I have to reconsider if I like the touch of vanilla from the fermentation in French barrels, but it surely has some interesting yellow fruits, and a vibrant touch too.
According to my 'one wine only'-game I chose this one: Amigo Imaginario 2017, from old vine palomino, fermented with skins, and aged in an oloroso cask for 10 months. The colour is yellow; smells of orange peel, herbs, plums, and a touch of marzipan; in the mouth it's full, with a great concentration, and you by now you would have guessed that it's somewhat sweet – but it's not. Great personality, alternative, truly interesting!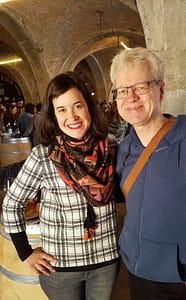 Always a pleasure meeting up with Sandra Bravo and tasting her wines
I appreciate that Sandra Bravo of Sierra de Toloño keep coming back to these events. She is one of the younger, independent voices in a Rioja still struggling to come out of its classification system based on wood ageing. From vineyards below the Sierra Cantabria mountains, both on the Riojan and Basque side of the border, she takes good decisions on the way from grape to bottle.
The reds showed as good as ever, from the plain Sierra de Toloño, now 2017, with its fresh cherry fruit, and inspiring acidity, but also in this vintage quite evident tannins, the Camino de Santa Cruz 2016 (formerly Rivas de Tereso), a single vinyard wine with extra minerality; darker and wilder fruits, with some subtle underlying oak and also lovely acidity and the super delicious La Dula 2016, a garnacha made in amphora, really floral, red-fruity and expressive. The Nahi Tempranillo is a dark, rich, spicy wine that will improve with age – and lastly Raposo 2016 from Villabuena, the Basque part: a little graciano thrown in among the tempranillo; dark, blackberry, forest fruits, good acidity – classic in the good sense of the word.
In recent years she has presented wonderful white wines, very different from both the young and clean tank style of the 1970's (still popular) and the oaky style requiring long ageing. The basic Sierra de Toloño 2017 is clean and bright, but has already a profound quality. A favourite among white riojas during the latest years has been the Nahi Blanco, now 2016. Made from viura, malvasía and calagraño, a field blend from five small parcels in Villabuena de Álava, with a light ageing in barrel: Golden colour, a touch of tropic (litchi), white flowers and a light touch of smoke, full in the mouth and a nice natural acidity.
Alfredo Maestro (left) and Dutch journalist Paul Op ten Berg 
I have tasted Alfredo's wines several times lately, so here I only tasted a couple in order to discuss them with my friend, Dutch journalist Paul Op ten Berg. One was an orange wine that was featured in January. (Read it here.) In short: Lovamor 2016 stayed 6 days with the skins, then on lees for 4 months. Due to the cold Castilian winter a malolactic fermentation never happened. It's a rich and complex wine with a gold-orange colour; apple and melon in the aroma, flowery, and also lovely, light citrus; slightly pétillant and with a citrussy aftertaste.
Yulia Zhdanova
I first met Yulia in Alfredo's neighbourhood, more precisely at Dominio de Pingus, where she guided us around the premises during a wine trip that I organized. But she has Eastern roots and is now making wine in the Kakheti region of Georgia. The winery is called Gvymarani and can be found in the village of Manavi. The wine is made from the mtsvane grape, fermented 7 months and also  aged in qvevri. Gvymarani Mtsvane: Clean golden; fruity nose of apple, dried apricot, peach, orange peel and some honey; full and with evident tannins in the mouth.
Antonio Portela (picture taken at the Barcelona tasting)
I tasted Antonio Portela's wines in Barcelona earlier that month and made an appointment to visit his vineyards later – so I just took the opportunity to try his beautiful red tinta femia Namorado 2017 (tinto mareiro) again, fermented and aged for 12 months in used French oak: Light in colour; pure, with fresh, red fruits on the nose; a vibrant flavour, a good natural acidity and in a long saline finish. Goodness, what a wine!
Constantina Sotelo (picture taken in her winery after the fair)
Constantina Sotelo was another producer that I decided to cross the border to visit once the fair was over. Here I tasted, among others, her Pio Pio 2017 'en rama' (unfiltered). It's from a vineyard with quite a lot of 'pie franco' (ungrafted) plants, and a very personal wine: Light yellow; green apple, citric (lime), anise; quite full, glyceric, and with an appealing acidity. A lovely albariño. See you on the other side of the border!