Carlos Sánchez has a background from Sierra de Gredos (4 Monos). But he had early on fallen in love with the Sonsierra area of Rioja. And here he is. Since 2019 he has used the facilities of the former cooperative in Labastida.
This is a wine from a single plot (0,3 ha.) in San Vicente de la Sonsierra, on 100% garnacha. It's spontaneously fermented with a high percentage of whole bunches, and kept in large oak barrels. Not clarified nor filtered. A modest production of 1.700 bottles.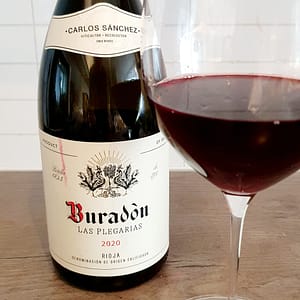 Buradón Las Plegarias 2020 (Carlos Sánchez)
Cherry red. Good ripe fruit, red plums, cherry, some strawberry, and a layer of dried herbs and lavender. Good volume, soft and fleshy, fine tannins, integrated acidity. It's rooted in its landscape, yet has a noble air to it. Really good.