It's not often that we present natural wines from this ancient country, but here is a good Greek pét-nat. It's the Kioutsoukis family, originally from the coast of the Black Sea, that brought the knowledge about winemaking with them to Greece. Now, here in the modern world they completed their conversion to naturals in 2015.
The traditional use of herb sprays are used if necessary, but wine responsible Dmitri Kioutsoukis' ideal is to use as few treatments as possible.
They own 10 hectares of vineyards in the hills of Mygdonia in Northern Greece, not far from Thessaloniki. They have a strong focus on Greek grape like assyrtiko, malagousia, roditis and xinomavro. In the low hillside an all-year northernly wind secures healthy vineyards. The soils vary from clay-sand to small stones and schist. This slightly off-dry (15 grams) ancestral style sparkler is made from xinomavro and the whites malagousia and assyrtiko.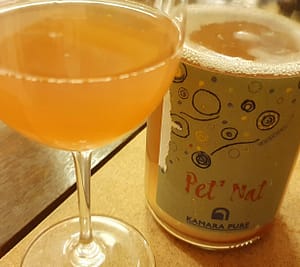 Kamara Pure Pét' Nat 2019 (Kamara Estate)
Blood orange colour, turbid and quite bubbly. Smell of red berries (raspberry/strawberry), lime, grapefruit and mango. Good acidity, slightly bitter finish that balances the residual sugar.
Price: Medium