Sometimes when you feel a grape or a wine region has somewhat lost its direction, there are still someone that knows how to use a compass. It's not that Rueda is completely lost, but the amount of uninspiring wines, often made with artificial yeast, together with the commercial success in the national market has made it one to "hate" for many. Good to know then, that there are people like Ismael Gozalo in the natural wine field. And among the producers working in a terroir-focused way with natural yeast there are a few. One of the leading ones, but often overlooked, is Bodegas Vidal Soblechero. They are mentioned before, and you can read about a visit here.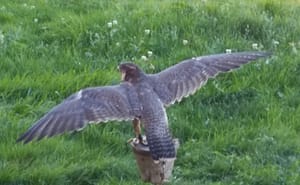 They are found in La Seca, located in the heart of Rueda, and the Spanish municipality with the most extensive vineyard. Claudio Vidal has tended the 42 hectares of family vineyards for several decades. Some of the plantings are more than seventy years old. With the climate, the old vines and the airing of the high plain, Rueda is a good place for organic farming.
Today it's Claudio´s son Vidal and daughter Alicia who hold the reins, and founded in the 1990's a small bodega built for their purpose.
The property is based on the verdejo grape, but they also own some viura (macabeo) and tinta fina (tempranillo). I appreciate their focus on small quantities of single plot wines, and tasting through their lines Pagos de Villavendimia (single plots) and Viña Clavidor (mostly estate blends) is a rewarding exercise. You have by now understood that you should consider this producer when searching for the authentic Rueda.
This week's wine: The vineyards lie to the north of the municipality. In most of the plots they use the traditional bush vine system. All grapes are hand-picked, fermented in steel, only with indegenous yeast. Grapes from bush vines are harvested earlier, and for this wine some trellis style grapes are picked later. After alcoholic fermentation the final blend is left to age some months on the lees. In fact the wine is bottled every month, so the impact of the lees is stronger every time, as they are never removed. While the first bottlings are always fruitdriven, both complexity and ageing ability are increasing at the next bottlings. Only slightly fined and filtered.
Clavidor Verdejo 2018 (Bod. Vidal Soblechero)
Straw-coloured. Aroma of yellow apples and citrus (lemon), slightly yeasty, and a touch of apricot. Quite full and fleshy on the palate, with excellent but integrated acidity, and more to the mineral than the fruity side.
Price: Low