Clos des Vignes du Mayne in the Mâconnais (southern Bourgogne) has been owned by the Guillot family since 1952. The land has been used for farming for more thousand years, and no chemical products have ever been used. Now Julien Guillot makes the wines in the most natural way possible, and according to a biodynamic philosophy.
The Bourgogne Rouge Les Crays comes from a small plot of vines aged around 40 years old in calcareous soil. Certified by Demeter, Guillot uses natural treatments and preparations. The harvest is manual and the grapes are selected in the vineyard itself.
The pinot noir grapes are macerated in whole bunches for about 8 days. Following spontaneous fermentation with native yeasts, the wine ages in wooden barrels for 12 months. It is finally bottled without being filtered, clarified or any sulphur added.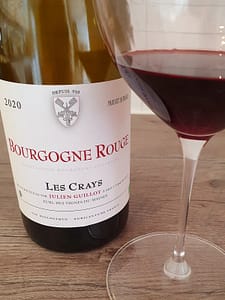 Bourgogne Rouge Les Crays 2020 (Julien Guillot/ Clos des Vignes du Maynes)
Cherry red. Dark and red fruits (dark cherry, raspberry), tart plum and tea against a mineral background, and a hint of acetone. Good volume, meaty, lovely texture and good length.
Price: Medium