I have tasted two varietal rufete wines from Sierra de Salamanca, both from producer La Zorra (meaning: the fox) and both in the 2018 vintage. Ituero is an ambitious, well-made paraje wine from a paraje (single site) called Itu. Here I chose Raro as this week's pick, a very fresh fruit-driven wine.
Owner Agustín Maíllo is one of several that is currently recovering the winemaking traditions in the area and its indigenous red grape rufete.
The name La Zorra is inspired by the fable The Fox and the Grapes, written by Félix María de Samaniego,. At first, Agustín planned to make wine just for the family restaurant, but the current production is 50,000 bottles. They grow 20 hectares of vines, seven are their own and located in and around Mogarraz. Bunches are destemmed and fermentation takes place with indigenous yeasts.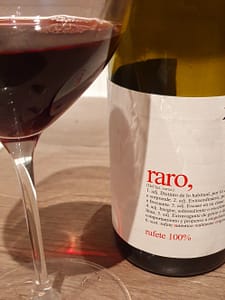 Raro 2018 (La Zorra)
Cherry red. Fresh, fruit-driven, smells of cherry, raspberry, herbs, some licorice, there is also an earthy note. Fruity in the mouth, with fine tannins, decent concentration and a fresh acidity.
Price: Medium