Who has not experienced that sweet, uninspiring stuff called lambrusco? Now thankfully more and more producers try to lift it from that bad reputation. In the past it was made by what is now dubbed the ancestral method, that involves bottling before it is finished, sometimes with a small addition of unfermented must, and the bubbles were developed during this process. Some are also made by the "traditional" (champagne) method. But most are made with the second fermentation in steel tanks.
Lambrusco is a family of grapes that has also given name to several DOC regions in Emilia-Romagna. This wine here comes under the less specific designation Lambrusco dell'Emilia.
Camillo Donati is found in Langhirano, just south of Parma, where he cultivates 21 hectares of vines biodynamically. It was his grandfather who first planted vines. The soil here is calcareous clay, and this particular vineyard was planted in the 1970's. They were spontaneously fermented, with the secondary fermentation in bottle. It's unfined and unfiltered, and the certification is organic.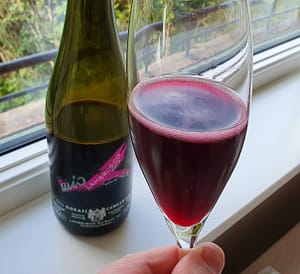 Il Mio Lambrusco 2018 (Camillo Donati)
Dark red, bubbly. Aromas of cherry, raspberry, flowers. Fresh, slightly textured, yet juicy and appealing in the mouth, with a good natural acidity.
Price: Medium
Food: Characuterie (don't forget the prosciutto of Parma), light meat, pasta, salads, aperitif…