I was touring the Veneto region in the summer of 2018. One of the producers I would have visited was the unique Leonildo Pieropan. But sadly he passed away only two months before. But he had given me many good memories with his wines, from the lovely entry-level Soave and up to the vineyard wines. La Rocca was a regular when I was responsible for the wine selection at a restaurant during the 1990's, and it was a delightful revisit when the latest issue appeared in a private tasting lately.
Founded in 1880, the Pieropan family was thought to have been the first to use the term Soave on the labels, several decades before the DOC was born. Leonildo Pieropan was among the first ones to recognize the potential for single vineyard wines, and for the ageing potential of Soave wines and the much overlooked garganega grape.
The Calvarino vineyard was bought by his grandfather in 1901. This was the first single vineyard Soave Classico in 1971.
The La Rocca vineyard is located on the hillside of Mount Rcchetta near Soave's medieval castle. The soil is calcareous, the south-west, and there are several long, narrow terraces. The harvest is usually done in late October. The harvest is manual, the maceration short but some skin-contact. After fermentation the wine is aged for one year in old barrels of 500L. And the variety? Garganega, obviously.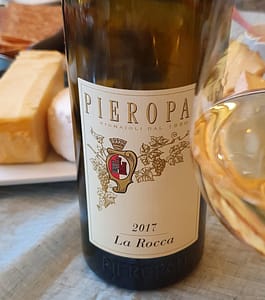 La Rocca 2018 (L. Pieropan)
Golden yellow. Aromas of yellow apples, white flowers, white peach, a touch of tropical fruit, and a nutty touch. Full, glyceric and juicy on the palate, with a pineapple-like acidity, and some bitter almond in the end. It's complex, quite concentrated and long.
Prive: Medium
Food: Grilled and tasty fish, light meat, cheese, risotto…