Melon de Bourgogne can be difficult to get to grips with. Not long ago there was a Muscadet tasting in my private wine club, and after having tasted through some 15 lightly coloured white wines one of the members observed that nobody had yet said a word about citrus.
The other day my student had trouble in describing this wine. And so had I, to be honest. I often start placing the aroma along the "apple scale". Nothing obvious here. Citrus: Nope. Herbs and spices were difficult to detect, no butter, and wood: not at all. In the mouth it was quite full, but there was no particular acidity to talk about. I was thinking, maybe is this the perfect wine, when words… don't come easy, but what you have in the glass is just delicious and, yes just wine, and just right.
In the Muscadet de Sèvre-et-Maine appellation mother and daughter Véronique & Aurore have 75 hectares of vineyards. The Château du Coing vineyard is a south-facing one. Then, it's a lees-aged wine typical for the area.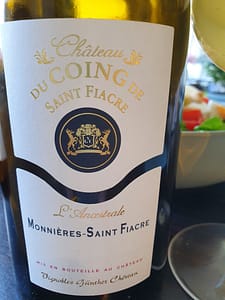 Château du St. Coing de Saint Fiacre l'Ancestral 2015 (Günther-Chéreau)
Straw yellow. Mature apples, some bread, white peach and maybe ginger. Full on the palate, a creamy lees character, medium length.
Price: Low-medium