A Emoción dos Viños is now in its 10th edition. It is a fair for small artisan vintners held at the magnificent Real Mosteiro de Oia, with splendid views to the Atlantic Sea. This Cistercian monastery -near Baiona, roughly between the big city of Vigo and wine town A Guarda- can trace its history at least back to 1149, when king Alfonso VII of León and Castilla granted parts of today's complex to the monks of Oia. The fair was held over two days. A novelty this year was not more than 35 wine producers on the first day, and 35 others on the second. And every possible coronavirus times precausion was taken, such as mandatory use of masques for both artisans and visitors.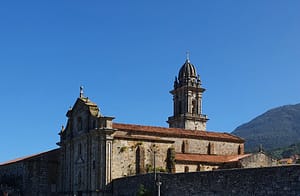 Antonio Portela, himself wine producer, is head of the fair, together with wine merchant Marina Cruces. In this much too short report we will concentrate on the Galician wines, try to select one wine per producer (at least not all will be mentioned) – and why not start with the organizer. Antonio Portela has always impressed me with his wines, that really tell a story. I visited him last year and saw his beachfront vines, whites albariño, espadeiro blanco and loureiro, and reds tinta femia (caíño tinto), espadeiro, loureiro a.o. They always have a clearcut edge, a long curve, and a wonderful saline finish. The winery is located in Bueu on the Morrazo península, between the rías of Pontevedra and Vigo, just outside the Rías Baixas denomination.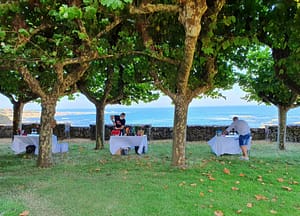 His varietal tinta femia (Mar do) Namorado, an all-time favourite, now in its 2018 vintage, must be mentioned. It's a low-extraction wine, full of red berry aromas (raspberry), herbs like thyme, and as mentioned above, with a long curve, lovely integrated acidity and saline finish. Along the same line was Viña Fazóa 2019, also a tinta femia, this one from three different municipalities, but the taste had close similarities to the more established brand. Aside of this I tasted a tinta femia-espadeiro, in the same vein as the Namorado, and also an interesting loureira tinta, both from 2018. The latter comes with a much darker colour, because of the character of that grape variety.
It was a nice oportunity for an update of other well-known producers from the region. Among these were Luís Anxo Rodríguez, who has a wide range of wines. I visited him in Ribeiro 7-8 years ago. Some of his wines are meant to last, and among the wines he had brought here were A Teixa 2017 (mainly treixadura with godello and albariño), a citric, creamy and a bit buttery white, still young. Even more so the Viña de Martín Escolma 2015 (treixadura, albariño, torrontés, lado), almost Central Burgundian in its rich citric, powerful, buttery oakiness (12 months in new French oak), 10-15 years before it reaches its prime, according to Luís. And this I can believe, because when I visited him he showed much older editions of the Escolma. For drinking now the Viña de Martín Os Pasás 2018 (80% treixadura, the rest albariño, torrontés and lado) was a better choice. Light yellow with some green, citric, chalky, a bit honeyed. In a way luscious and light, but also concentrated. Appealing.
Two other excellent Ribeiro producers were Iria Otero and Cume do Avia. Iria I visited one of the days before the fair and will publish a report. Both ranges were tasted at the Simplesmente Vinho fair in Porto in February this year (here is a summary), so the tasting here was done quickly. From Cume do Avia I tasted a wine in Vigo a couple of days before the fair. (Read about it here.)
Adega Vimbio of O Rosal are now taking steps to be fully organic, and can at the moment be dubbed sustainable. Low sulphur is a characteristic here. I have for long admired their varietal Albariño. It didn't disappoint in the 2018 vintage either; apples, white flowers and a hint of spice. Splendid was the Baenis 2017 (after an old name for the river Miño), an albariño from a 0.5 ha. plot with poor clay soil. It's whole-cluster pressed, and spends 6 months with bâtonnage, then another three or four on lees without stirring. There is minimal added sulphur here. It's rich and tasty, with a slight feeling of sweetness, and with a super integrated acidity. On the nose it's both herby and saline.
More over to the wild side, and well-known after numerous natural wine fairs, is La Pérdida of the village Larouco in Valdeorras. There Nacho González grows 4 hectares of vines on granite and clay at an elevation of 500 meters. The name pérdida ("lost") derives from the vineyard of old garnacha tintorera that he inherited from his grandmother, and chose to restore in-stead of replant or sell. This marked the start of his winemaking career. He makes extensive use of tinajas (clay vessels) from expert maker Juan Padilla in La Mancha (see here), and very old oak. You will never find any oakiness in his wines, and sulphur is a word you would think he hasn't heard of. Palomino is another grape that he favours, historically important to the region.
Malas Uvas 2019 was absolutely wonderful. It's made mostly from palomino, but also doña blanca, two varieties not permitted in Valdeorras (hence the name "bad grapes"). It's made in steel and tinaja, and got five days skin-maceration, then spent the winter on the lees. No fining, filtration nor addition of SO2. Yellow/greenish and cloudy; very flowery, with pears and minerals; a fine and light tannin, and a lovely cidery acidity. A Chaira 2019 was equally appealing, very natural and juicy, a doña blanca made in tinaja and inox. O Pando Orange is a wine I love, and very much so in the 2019 vintage. From a single vineyard godello, it's fermented on skins for around 5 months in tinajas before being racked over to steel. This one has more colour, and there is a lot more tannin texture here; aromas of mature citrus (clementine), mature apples, white flowers and salt. It's a white wine for everything from the grill. OK, I also have to mention the Proscrito 2019. This is made mostly with palomino with some garnacha tintorera, fermented in chestnut and oak, then finished in steel. The grapes are both white and red, thus the category is clarete. Light cherry red; aromas of strawberry, raspberry, orange peel; lightly textured, and a very appealing acidity.
I have had a special relation to Guímaro. Mostly because I have for a long time loved the wines. I visited Pedro Manuel Rodríguez back in 2012, and I was also his importer a couple of years. He is found in Sober in the Ribeira Sacra sub-region of Amandi, where he has 8 hectares of own vineyards at 350-550 meters on slate, granite and sand. He makes both red and white wines, entry-level blends and single plot wines. Just after this fair I had his Finca Meixemán at a restaurant in Madrid, about which you can read here. I have always been a fan of his basic red mencía. In most years, except for some of the hottest, the Guímaro Tinto, is an elegant, red berries fruity wine with some herbs, and with a mineral palate. 2019 is no exception. An interesting feature was Camiño Real, that Pedro brought in two vintages. The grapes are sourced form a 50 year old vineyard, is made with 80% mencía, the rest garnacha tintorera, and pressed with 60% whole bunches. The 2017 was one of the hot years. Here it showed dark, mature fruits, a hint of wood, also a bit vegetal; in the mouth it was quite potent, but also with a stimulating acidity. The 2018 on the other hand, was lighter in colour; it showed more red berries, and more of the saline, sea-breeze characteristics; very juicy in the mouth, and overall a more elegant style. A Ponte is also an "all-time" favourite (since its debut in 2015), now 2017. It's from an 80 year old vineyard of granite and slate, from the same slope as Meixemán, but on top (while the other is in the middle). The grapes are mencía, sousón, brancellao, merenzao and caiño tinto. It shows plenty of red fruits, also some balsamic, herbs, it's quite structured, still with a bit oak, and would be perfect in a 3-5 years time, I would guess. Interesting was also Divina Clementia 2015, a wine in its optimum drinking point, according to Pedro. It was a bit developed, cherry coloured, with fine-grained tannins and still good acidity. And it would be unfair to leave without having mentioned the whites. Both the entry-level Guímaro Blanco 2019 and the Cepas Viejas 2018 deliver as expected. The first light, smooth and lovely immediate drinking, the other more yellow, a bit buttery, full, but still with good acidity.
Back soon for some (at least for me) lesser-known producers, then some from outside Galicia.