Zarate is Eulogio Pomares' family winery in Meaño, Rías Baixas. Eulogio still makes the wines here, as he has done since the 2000 vintage. But in recent years he has also put a lot of effort into making wines under his own name.
This wine originates from a vineyard close to the sea, with alluvial granite and river stones and almost 80 year old vines. It was fermented in large traditional chestnut fudres with a further eight months on lees.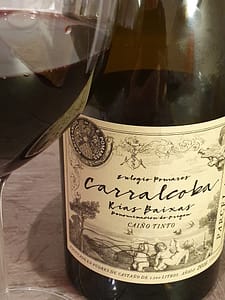 Carralcoba Caíño Tinto 2016 (Eulogio Pomares)
Cherry red. Cool red fruits (raspberry, cherry), spice (nutmeg). Juicy and delicate, but also with crunch, salinity and a savoury acidity. Maybe optimal drinking at the moment.
Price: Medium-high
Leave a Comment