Vigo is the main city of Galicia's southern part. It might be that I don't know it well enough, but I think that even if it may be the natural centre for those who live and work there, so far that it lacks that "something extra" to make it a major tourist spot. This is if you're not taking into account that Galicia's (at the moment) best natural wine bar is there. Malauva is a place you can go to savour delicious organic, biodynamic, natural wines, and the waiters know what wines they are serving, just half a block from my hotel by the harbour. (I visited in a break from Porto's Simplesmente fair, over the border.) It was Josiño, educated sommelier, and his wife Marina who started the bar, and I hope that sufficiently enough people will appreciate it, so that many like me (natural wine geeks, but not Celta football fans) have a reason to come back.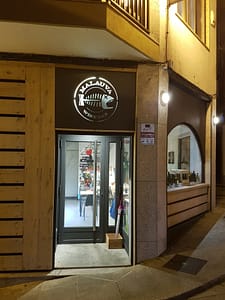 On a corner just off the harbour
I ordered "Burrata y tomates" and "Canelón de choco", and as it was not packed with guests this Monday I had the chance to discuss with Josiño which wines to be served next.
I chose to go Galician that night. After a light start, the appley/citrussy Eido da Salgos 2016 (Cazapitas) from O Rosal, Rías Baixas, came the more herbal Memoría de Ventura lías finas 2016 (Pinguela), a Valdeorras godello. On to the reds, Volátil from the
Bibei subregion of Ribeira Sacra were bottled by the Fefiñans of Cambados. Maybe the least interesting wine, a bit warm and oaky, but also with nice dark fruits and balsamic notes. With Silice 2017 of Sober (Amandi subzone of Ribeira Sacra) it started to take off. A cherry red, wild fruits scented, atlantic acidity, elegant wine.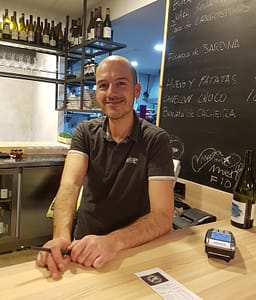 Josiño, 'taberneiro' for Malauva wine bar
Our main wine this time is from the team Envínate, that makes wines in several Spanish regions. The four friends started as consultants after oenology studies in Alicante in 2005, but it soon evolved into a wine producing project. Their aim is to explore distinctive parcels and make pure, authentic wines that express the terroir of each parcel. No chemicals are used in the vineyards, only natural yeast, and sulfur is used only prior to bottling and if they think they need it.
Lousas is Galician for the type of slate soil that predominates in the Amandi sub-zone of Ribeira Sacra. Aldea means village. There is 90-95% mencía with other grapes (such as brancellao, merenzao, mouratón [juan garcía], bastardo and garnacha tintorera), in a field blend.
For this wine 40% whole clusters were included, the must was raised in old barrels for 11 months with no racking and no SO2 added until bottling.
Lousas Viña de Aldea 2016 (Envínate)
Cherry red. Red fruits and flowers on top, white pepper and herbs. It has a mineral edge and a, long, cool acidity.
It's fresh, elegant and in my opinion more than a typical "village wine". It bears the subtitle Vino Atlántico, which is very appropriate, as the influence from the ocean is evident.
Price: Medium