Janko Štekar is based in Goriška Brda, in the small town of Kojsko, between the Pre-Alps and the Adriatic Sea, not far from Italian Friuli.
His winery is protected from the cold winds from the north, while the mild breezes from the east helps avoiding humidity and thus plagues in the vineyards. The vines are planted on terraces and worked organically.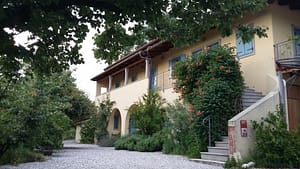 (Photo credit: Kmetija Štekar)
The wines are made as naturally as possible. He uses just a small amount of sulphites sometimes..
He has two lines of wines, one with skin-maceration and one without. This wine is from the former selection, made from riesling 90% and picolit, and macerated on the skins for 28 days. It underwent a spontaneous fermentation, and matured in 1100L vats of acacia for four years. Very low sulphur, no filtering.

Re Piko 2013 (Kmetija Štekar)
Clear amber. Aroma of nectarines, white pepper, flowers, eucalyptus. light touch of apple vinegar. Full, grapey, some tannin and good, natural acidity.
Price: Medium
Food: Fried and grilled fish, light meat, salads… We had it with panfried salmon and various vegetables