Last Friday I visited Rodrigo Méndez and Forjas del Salnés. We started in the precious Finca Genoveva in Barro and ended at a delightful restaurant A Curva in Portonovo, all in the province of Pontevedra.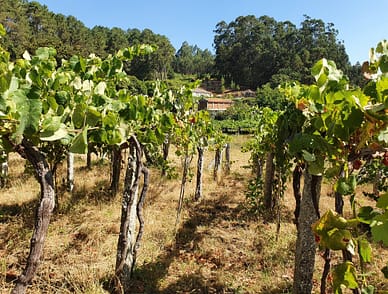 Rodri is the nephew of another great producer, Gerardo Méndez of Do Ferreiro (that means "from the blacksmith" in gallego language), and Forjas (forges) de Salnés is named after the iron business that his grandfather had set up a long time ago.
Forjas del Salnés sources the wines from 7.5 hectares of vines in the villages of Meaño, Sanxenxo and Barro. Of these they own 4 hectares, the rest are rented from local growers. Genoveva is one of these. It is a 2,5 hectares farm in the municipality of Barro, and 1 hectare is planted. 70-80% is 200 years old albariño, and there is also caíño tinto and other red grapes. The caíño tinto grapes go into a single plot red wine without DO.
This wine is produced from the bicentenary albariño vines in sandy granite soil. It was fermented with whole clusters in big 2.500 liter oak foudres, and matured in them on lees for a year before bottling. Note: There is no oaky character in the wine. Other than that, minimal intervention is employed, no temperature control, only some SO2 when the grapes come in and later to block malolactic fermentation. Typical total amount is 20 mg, according to Rodri. Both 2017 and 18 were hot years, so the harvest was early (normally it's late august).
Leirana Finca Genoveva Albariño 2018 (Forjas del Salnés)
Straw yellow. Aroma of flowers, red apples, minerals. It has concentration of flavours, but is very balanced, fine-tuned and elegant, with a super, mature acidity and a saline finish. We have seen it more "wild" or edgy in previous vintages (such as 2015), but this is delicious.
Price: Medium
Food: White fish, seafood (oysters, clams, pulpo), rice dishes, chicken and salads