Just before leaving Spain this time I had the chance to visit the wonderful wine bar-restaurant Angelita Madrid just off the Gran Vía. This is an all time favourite, but I realized that this post is the only one on these pages so far. They have a bodega with more than 500 references, and always some 50 on offer by the glass. Add to this a high level kitchen, moderate prices and a highly competent staff, and you understand that the place is recommended.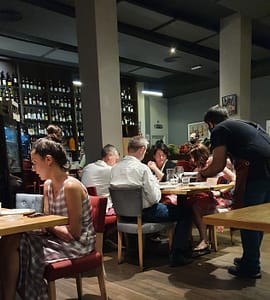 This time I started with an albariño from Meaño, Rías Baixas, Galicia. Altos de Cristimil 2018, from the bodega of the same name. It showed a light yellow colour with greenish tones; aroma of yellow apples, flowers and with a certain lees character; quite slender in the mouth, with a good acidity, a bit almondy and with a salty finish. Very appealing.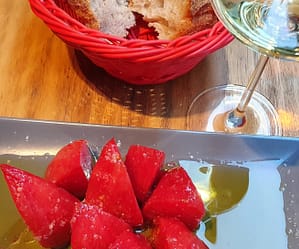 La Flamenca 2018 is a new project of Mario Rovira, of bodega Akilia in Bierzo. This is however in Alella, Catalunya, just north of Barcelona. It was listed under skin-contact wines, but the contact is limited with only five days of maceration with skins and two more days in spontanous fermentation after pressing – thus the light colour. 2018 is his first vintage here. Macabeu and pansa blanca are grown near the sea in granite soil. Aging was in ceramic egg, manzanilla barrel and steel tank. I would say the colour is light straw; a fine and discreet aroma with white flowers and lime; lightly textured, just a hint of peel, and with a salty finish. Really cool.
I tried Massuria 2009, a specialty in that it's a developed red Bierzo wine. This dish however, called for something fresher. Guímaro Finca Meixemán 2017 (Pedro Manuel Rodríguez) could provide that. It's a single plot wine from the middle of a hill in the Amandi subregion of Ribeira Sacra. Dark colour with violet hints; despite a hot vintage the aroma is quite cool, with red berries and some balsamic, or herby, notes; super fruit in the mouth, a natural, integrated acidity, and just the faintest touch of barrel.
Valderiz 2016 was also tried, and is not bad at all. But I had already selected the Yotuel Selección 2015. The family bodega Gallego Zapatero is one of three in Ribera del Duero that Alsatian winemaker Sophie Kuhn was in charge of before she left a couple of years ago. From nine hectares in Anguix, Burgos province, they have a selection of wines, some of them single-plot wines. This is the quality between the entry-level wine and the single vineyard wines. It's a varietal tinta del país (tempranillo) from two plots, both with more than sixty year old vines in bush training, grown in mainly clay and sandy soil. 2015 was a hot year with a short growth cycle. Fermentation was carried out in inox and concrete, and the 14 month ageing in French oak and concrete. Dark red with violet hints; aroma of forest fruits (blackberry), herbs (mint, rosemary) and pepper and some coffee,; it's a potent wine, but the tannins are not overwhelming, and it has a good balance between the richness and the acidity, a hint of toast, and stylish in spite of 14%.