I have met Iria a few times at fairs like Simplesmente of Porto (read a little more here). This summer we agreed on a visit on my way to Vigo and the nearby A Emoción fair. She makes wine in both Ríax Baixas and now also Ribeira Sacra, and they are excellent. But she is literally at home in Leiro, to where she moved with the family a few years ago, after having lived in Vigo and been commercial director of Dominio do Bibei.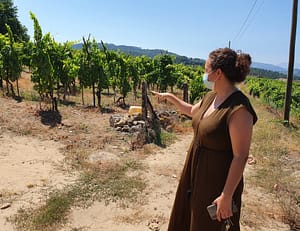 When the time was right to make those important changes in life, she started with the Sacabeira label from the Salnés area of Rías Baixas. These are very stylish wines, both white and red. Here in Ribeiro Iria and her partner Miguel grow varieties like sousón, mencía, caíño tinto, treixadura and loureiro. They have one hectare on their own, and dispose of two more. Now Miguel is responsible for the work in the field. They are very clear that the vineyard they want is an organic one with little intervention, but with manual work when there is any, and chemicals are a non-existent issue. If the grapes are tasty in the vineyard, the chances for a good, balanced wine is there.
The project name "wines with memory" implies that she wants to show how they were made in the past, and also that the wines reflect the place they come from. She simply uses the time needed, and the respect that every variety requires.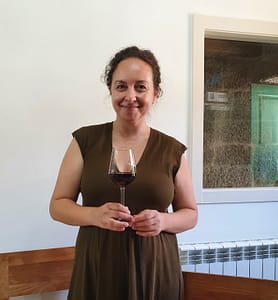 Here is a lot of granite soil, with some slate and clay. They wines have a maritime character, even though we are not as close to the sea as her vineyards in Rías Baixas. This can maybe be because of the varieties, especially caíño can have a saline touch, and Iria thinks it's maybe more pronounced in granite soil.
Castes Brancas is, as the name suggests, made from white varieties, treixadura, godello, loureiro and torrontés. It was raised in concrete, where it stayed for 6 months.
A Seara Castes Brancas 2019 (Iria Otero)
Light golden; citric aroma, flowers, green apples and tasteful yellow plums, a bit herbal too; juicy and creamy in the mouth, vivid and energetic with a delisciuos natural acidity.
Price: Medium
Food: We had it with a wide selection of dishes, some of them typical tapas, containing both vegetables, fish and sausages. But it goes well to a great variety of light meat, fish, shellfish…