Here is the last account in this round from A Emoción dos Viños, 10th edition. There were a number from outside of Galicia, from Portugal, even from France – and Titerok-Akaet from even further away, Lanzarote (in the same country though). Here are some great wines from very reliable producers.
Ismael Gozalo is nothing less than a legend within the natural wine world, and famous far outside the borders of Spain. From Nieva (Segovia), Castilla y León, he disposes of centenary pie franco verdejo vines that has been used for the wines of Viñedos de Nieva, and later Ossian. Now he is "travelling alone", with two lines, one called MicroBio, and the other bears his own name. Well, centenary is here an understatement: Some vines are no less than 280 years old. I have written about his wines many times, so you can search through this pages, and you will find a lot more information. I didn't taste all the wines either, because I have done so several times. A short post about one of his lovely Nieva York pét nats was published in late May this year (read here).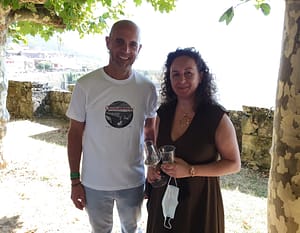 Ismael is a very hardworking, dedicated bloke. But he also like to play with the rock'n'roll myth. Correcaminos is a lovely unpretentious wine, light, unfiltered, open, "mature grapefruity" and thirstquenching. And naturally enough, because of the name ("roadrunner"), it gave name to his "coronavirus tour". I guess because of the virus there has not been too much touring, but it's a cool nod to the rock merchandise business anyway. La Resistencia 2019 (an amphora wine from two different parcels and 4 months on the lees) is also slightly turbid, vibrant, with a lovely acidity. MicroBio 2019 (whole clusters, aged in old barrels): Very light in colour; aroma of green apples, flowers; full, rich, juicy, and tasty with a slight touch of sweetness. Sin Nombre is a favourite, and a house wine by me (when available). The 2017 vintage had some colour, golden with green; aroma of stone-fruit, yellow apples, a touch of cinnamon; it's creamy, a bit buttery, cidery, juicy, and just lovely. I also tasted a Rufete (don't remember if it was the Rufian or a sample), delicious anyway, a light red wine, packed with red fruits, before I moved on.
Marc Isart was there, both on behalf of himself and Bernabeleva, where he is co-founder and winemaker. I have followed Bernabeleva for some years. They are located in San Martín de Valdeiglesias in the Madrid part of the Gredos mountains. They work the land according to biodynamic principles, and in the cellar they use whole bunch fermentation and ageing in neutral wood. They generally use low extraction, and I would say their wines are among the most elegant in the area. For the records: They also make white wines, mostly from albillo. Highly recommended. But because I know them well, I chose to concentrate on Marc's own range this time.
His own project is further east in the DO. Vinos de Madrid, in the subzone Arganda del Rey. Here he grows both tinto fino, or tempranillo, and the white malvar between 700-800 meters of altitude, on calcareous soil that contains gypsum and clay.
In the La Maldición line we tasted the Cinco Legua Malvar 2019 from calcareous soil, with 40-50 days skin-contact, made in neutral barriques. Malvar is related to airén, but is more aromatic and has more acidity. This wine is technically an orange wine, but is light golden in colour, has a flowery nose (roses), also nuts, lightly textured and full in the mouth. I also liked the clarete of the same name and vintage, made with 15% tempranillo. The majority of the rest is divided between malvar, airén and various other white varieties. The wine is light red;, with aromas of raspberry. In the mouth it is lightly textured, with fruit to the end. The red version, again with the same name and vintage, has 85% tempranillo and 15% malvar, and was blended in the cellar. Cherry red; dark fruits (blackberry), some spice; very clean fruit, and good structure. Gleba de Arcilla 2018 is a wine only from this local form of tempranillo, with one year in used oak. It's dark red; again with blackberry, some spice and coffee; round in the mouth, with a touch of wood, that will easily be integrated.
Germán Blanco makes wine in Rioja and Ribera del Duero. You can read more about this here, in a report from the Simplesmente Vinho fair in February. Albares de la Ribera, just outside the boundaries of the DO Bierzo to the east. Casa Aurora is a tribute to his great-grandmother who handed down the first vineyard. Albares is in a transition zone between the valley and the Bierzo Alto at 850-900 meters of altitude.
Germán grows three hectares of own vineyards. He also buys grapes from two local farmers. These go into the Clos Pepín, a straightforward red fruits-fruity wine that is pure joy, also in the 2018 version that he presented here. Most wines contain many grape varities, including white ones, and I don't list all of them here. Poula 2018 is a village wine, a mencía blend from various plots. I found it quite fine and elegant, juicy in the mouth with fine-grained tannins. La Galapana is the vineyard handed down from his great-grandmother, almost 1.000 meters altitude. In the 2018 vintage this was darker, with more menthol, but also red fruits, and in the mouth more structure than the previous wines, with an amount of tannins, though very fine-grained. More structured is also Valle del Río 2018, a 60-65% garnacha tintorera: Deep red, blue tinge; red fruits and forest fruits (blackberry), solid tannins and with a vivacious acidity. The most obvious wine of guard among these.
Alfredo Maestro and his wines I have known for some years now. Originally from Peñafiel in the heart of Ribera del Duero, where he has his bodega, but disposes of magnificent vineyards in both Segovia and Madrid provinces. This time I took the opportunity for an update of some of his wines. There is a lot about him on this blog, but I recommend this article as an introduction. El Marciano is a high altitude (1.150 meters) wine garnacha and albillo land, where Alfredo is doing a great job on behalf of the Gredos community. It's a fresh red-fruity wine, a bit earthy with some texture, generous in the mouth and lovely, lively acidity, and the 2019 is no exception. El Rey del Glam, now in 2019 vintage also, is his take on carbonic maceration. The grapes come partly from the high Gredos vineyards, partly from Peñafiel. There is no pressing, nor destemming. Carbonic maceration is carried out in steel tanks, then malolactic in the same tanks. This wine is also very fresh, with cool, red fruits, and a touch of carbonics in the mouth. It has just a bit of structure, and can be served slightly chilled.
A Dos Tiempos 2019 is from Navalcarnero, a high altitude village in the province of Madrid and the name refers to the fact that the grapes are harvested twice. Alfredo explains that the idea is that the first harvest gives a lot of acidity and low alcohol, while the harvest one month later gives less acidity and a richer alcohol. Then the two are blended and one gets a fresh wine with balanced, ripe fruit and tannins and just enough structure. It was aged six months in used barrels. Here the garnacha is complemented by tempranillo. By the time I got to his table it had been a long day of tasting and accumulated tannins, so Alfredo recommended a taste of his Brut Rosé to rinse the mouth. A delicious strawberry and red fruit-driven sparkler, by the way. Then I tried his classic ribera del duero Valdecastrillo 2018, from various plots between 750-1.000 meters of altitude. This wine had been ageing in half French oak, half chestnut for one year. A super, classic, yet individual ribera; cherry red, potent aroma of berries with a touch of dried fruit (figs), and a long, fruity finish. After this I had decided to leave, but I couldn't resist tasting a long-time favourite, the lovely fruity, non-oaked Viña Almate. A really interesting one is the white Consuelo 2018, a full-bodied, citric albillo mayor from more than 100 year old vines in Valladolid and Burgos, with 7 days of skin-maceration and fermentation in French oak.
After all these Castilians something from Catalunya: Can Ràfols dels Caus I visited in the Garraf zone of Penedès many years ago, when Carlos Esteva was turning his family estate into one of the most dynamic properties of the region. But they have somehow been neglected by me for many years now, for no particular reason. It's not that I haven't tasted any wines, but it was nice to get the chance to meet present manager Rosa Aguado for a real update here. The estate comprises 90 hectares of vines, and other crops in addition. The oldest vineyard is one with xarel.lo from 1948. It was in 2008 that they went organic, and at present biodynamic practises are introduced too.
Here is a brief account of some of the wines: Gran Caus 2018, xarel.lo 50%, chenin blanc 30, chardonnay 20:The colour was light golden, citric on the nose, with yellow apples, and quite fat in the mouth. Xarel.lo Brisat 2019: Brisat is a Catalan name for orange wine, and as the name implies this is deeper gold; it has an aroma of flowers, lemon, wax and honey; full on the palate. El Rocallis 2016, from manzoni bianco: Light golden, greenish; aroma of mature apples, aromatic herbs, lime, mothballs; lightly textured, good acidity, long aftertaste with some nuts. Rosa had brought two vintages of their merlot rosé. Gran Caus Rosat 2019 was very light cherry red; raspberry, some vegetal hints in the aroma; very juicy, with a fresh acidity. The 2018 was more towards peach colour; more forest fruits on the nose; and it showed some evulotuion, some "positive oxidation" we could say. Sumoll 2017: "Fine like pinot, rustic like nebbiolo", I think this was how Rosa described the sumoll variety. The wine showed cherry red colours; red fruits (raspberry, cherry) on the nose, a little spice too; and surprisingly structured in the mouth. Finally Caus Lubis 2004, 100% merlot, one parcel, oriented towards the mountain: Good colour, a bit brick; good evolution, plums, dried apricot, some cinnamon and tobacco; round, complete, still some fruit and acidity. In good shape. "Pomerol del Mediterráneo", she called it. Not bad.
João Roseira of Quinta do Infantado I met for the first time in the late 1980's, after he had become the first one to break the monopoly of the Porto/Gaia shippers and exported directly from his estate in the Douro. I started this series with Antonio Portela, organizer of this fair. And I round it all off with João, who runs what we can call a "sister" event in Porto, the Simplesmente VInho, where Antonio also participates. (Look around these pages for many accounts, you can maybe start here with a report from this year's fair.) João admits that it's difficult to sell port wine these days. But while you are thinking that port is out of fashion, I assure you: Quinta do Infantado is different. The Roseiras, João and now his nephew Álvaro, who has taken over as chief winemaker, want a dryer style. They ferment longer than usual, so there is less residual sugar and more alcohol. Therefore less addition of alcohol is needed, and it is also added gradually. This makes them more dry, and the alcohol is balanced with the fruit.
I visited his farm in February, so I just tasted a few wines this time. I simply had to re-taste their fabulous organic Ruby Reserva, that you can read about here. Then I sipped to some of the standard reds and ports (among them the organic tawny) while chatting with João about the times, especially with reference to the coronavirus and the destiny of port in general. Other than that I tasted the wines João had brought from 2010, the year. Quinta do Infantado Colheita 2010, the first ever vintage dated organic port, did not disappoint: Red fruits, figs, dried fruit, a vibrant acidity, balanced alcohol.
This was a much too short report over three articles from this initiative in the wonderful Atlantic environment. Watch out for small reports, wines of the week and other stuff. See you again!