Back in the magnificent Monastery of Oia on the coast of Galicia, I will take a look at some producers that were new to me, or that I didn't know very well. Here I have only time and space to mention a few.
Adega do Ricón can be found in Arbo, otherwise known for the Galician-Portuguese speciality lamprea, that jawless fish that is not an eel, but swims in the Miño-Minho and is often cooked and served in its own blood, and not only during the festivals in honour of the fish. Albariños and other local wines are perfect with lamprea. We are now in the subzone of Condado do Tea of Rías Baixas, close to the Portuguese border. Adrián Ricón manages 1.6 hectares of vineyards organically. The vineyards are more than 30 years old and planted with many different local grapes, both white and red. Both their Do Ricón Blanco 2018 made from albariño, loureira, treixadura and godello, and the lees-aged Anne do Ricón 2017 (same grapes except for godello) must be good lamprea wines. The first made in steel; young, fresh style, with a good acidity to match, the latter richer, but still more than enough acidity. I also liked the Do Ricón Tinto 2018, made from sousón, mencía, caíño tinto, espadeiro and brancellao and fermented in steel and with a short stay in used French barriques. Light red; strawberry and raspberry; fresh and with a good fruit all the way.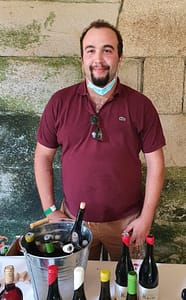 Adega Torgo is found at A Cañiza in the outer limits of Ribeiro, towards Condado do Tea. They offer fascilities for holiday and leisure, in addition to their small wine business based on one hectare of albariño, loureira and treixadura. They are in conversion and will be certified organic from this year. They have an interesting sparkling albariño with 8 months on lees. And then there is the Torgo & Tal 2018, which is a 80% albariño, 20% loureira/treixadura, grown in sandy granitic soil. It's kept on lees with some bâtonnage: Golden colour; aroma of mature apples; very fresh, with a vivacious acidity.
Antonio Miguez Amil and his Boas Vides may be a name to watch. The only wine I tasted was from the hot and dry 2017, but I liked it. He is located in S. Lourenzo da Pena, near Ribadavia. At present he has only one hectare, and many different local grapes were planted by himself in 2005 on a terrace of loam and sand. He practises organic and biodynamic farming, and average yield is as low as 20 hl/ha. The grapes were de-stemmed but not crushed, and the wine was made in stainless steel and plastic. Only natural yeasts were used, no additives, and only a small dose of sulphites. It was aged in two year old French oak 300L and 500L for 12 months, then another six months in inox. No fining nor filtration. A short tasting note: Quite dark in colour; dark and red fruits on the nose, some coffee; round tannins, some oak yes, but also with a very saline touch.
Zak Elfman is a man with a mission. He is American, but his mission to make wine started in Stellenbosch, South Africa, where he got training at Keermont Vineyards, then crossed the South Atlantic to Mendoza, Argentina – before he ended in Ribeira Sacra, where he finally set up his small venture called Mission, at present a mere 0.15 hectares. We are talking about low imprint natural wines. The bottles are lightweight. The wines are handmade through every step, from picking to packing. In fact when I lifted up a bottle after the airplane flight when I came home, the label fell off. So they are probably sustainable, and I will not be surprised if there is used a vegan-friendly glue. The grapes are stomped lightly and has had gentle punch downs. They are all aged in neutral French oak, unfined and unfiltered. I chose Mission Cantina Amandi (pink label) 2018: The wine was quite dark, a bit turbid; flowery, cherries, iodine, a bit rustic (earthy); very luscious and delicate in the mouth. I also tasted the 2019, that was less rustic, and a bit darker, as the grapes had matured better. But I liked both. On the third day, and when the temperature was rising, there arrived a slight hint of mousiness too. But don't worry, this is already lovely, and when these wines are fine-tuned after a couple more years it will be just great. No reason to doubt it!