Eulogio Pomares has been the winemaker at Bodegas Zárate since the 2000 harvest. He has started to make some wines for himself too, in tiny quantities under the label Grandes Vinos Desiguales, and some are quite sensational.
The soils are granitic, and the grapes for this wine come from parcels that Eulogio has replanted and using biodynamic principles and without rootstocks. Only native yeasts are used, the wine stays in 1,200 litre chestnut foudres and stayed 8 months, where it also undergoes malo-lactic fermentation.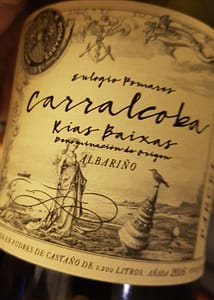 This one was fermented and aged in big 1200 liters vats of chestnut. The vines are seventy year old, and they are located in Castrelo-Cambados, in the central part of Salnés, probably the most important sub-region of DO Rías Baixas.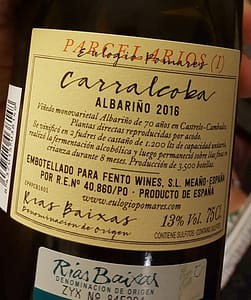 An informative back label
We have seen several styles of albariño over the years. Some of us are a bit tired of the commercial, aromatic versions. Too heavily oaked wines were plentiful at a time, and always out of question. Later there were many lees-aged wines; a good idea, but this too can make the wines more similar to each other. I like the ones on the wild side, made without corrections. Here is yet another interpretation, a chestnut and lees aged single vineyard wine from old vines.
Carralcoba Albariño 2016 (Eulogio Pomares/ Grandes Vinos Desiguales)
Straw yellow. Apple, lemon, pear and white flowers on the nose. It has a fantastic concentration, is full, with a lemony acidity and with an extraordinary length. It has a touch of oxidative character, but it's held in check, and is balanced incredibly. Close to perfection.
Price: Medium
Food: The best seafood you can think of, creatively elaborated